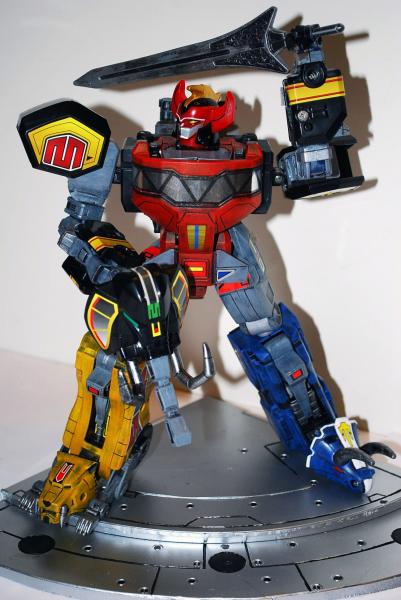 I present to you a figure that has been in the works for quite some time. As a kid, I loved Power Rangers and the coolest figure you could own was the Deluxe Megazord. Sadly, it is the epitamy of a plastic brick with only 6 POA. I've always wanted to articulate one, but they are too expensive and there is no way I'm ever cutting up mine.

Years pass.

In 2010, Bandai decides to create all new molds of the original Power Rangers and releases a new deluxe megazord. I buy it, cut it up, and paint it.....over a 6 month period. The base figure has 8 POA (being lenient) my improved version has 21 POA. Yeah, cool, right?

Here's a breakdown:

T-Rex:
Basecoated black
Drybrushed with Games Workshop Codex Grey, Chainmail Silver, Chaos Black, Blood Red, and Enchanted Blue
Megazord head put on ball joint
Crotch dremeled out and replaced with one from a Lego Knights Kingdom figure. Ratchet joints embedded in hips allow forward, backward, and outward motion.

Mammoth:
Some parts base coated black
Drybrushed with Chaos Black, Codex Grey, and Chainmail Silver
Sliding mechanism added to shoulders allowing an "in and out" motion
Shoulders put on balljoints
Arms from Transformers Cybertron Defense Red Alert were used to allow bicep rotation, elbow movement, and the hands were used for a 360 degree rotation.

Triceratops:
Basecoated black
Drybrushed Midnight Blue, Enchanted Blue, Blood Red, and Chainmail Silver
Head put on ball joint

Sabertooth Tiger:
Basecoated black
Drybrushed with Codex Grey, Chainmail Silver, Chaos Black, Golden Yellow, and Sunburst Yellow
Head put on ball joint
Front legs cut off-grafted on a set from a Voltron lion. Adds 4 POA total

Pteradactyl:
Basecoated black
Drybrushed Chaos Black, Codex Grey, Blood Red


Well, that's it guys. Remember that this isn't just one custom, it's 5-in-1. Not only did I have to consider how it looked as a Megazord, but I had to factor in the transformation to five seperate figures as well.

Oh, and the base was cut up from a Bakugan board. Basecoated black, sprayed with Krylon Fusion Metallic Silver, and the black details were Games Workshop Chaos Black.