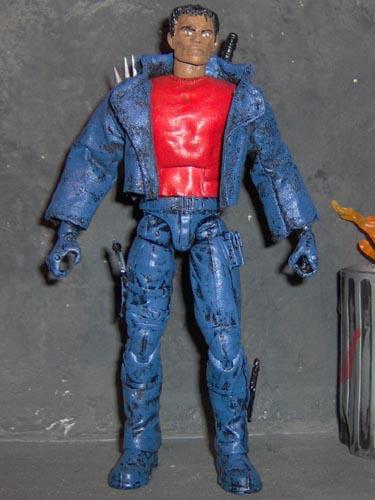 Blade – the most well known member of the Midnight Sons. Over the years he's pretty much worn three different key outfits. First, there was the big jacket and yellow goggles that he sported through the 70s and 80s, then, the blue leather outfit that he used in the Nightstalkers series and his subsequent self-titled title, and at last, the black trench coat with sunglasses look he's adopted since the first Blade movie.
I myself am not at all very fond of this latest look, nor the fact that he is now a vampire just like he was in the movies.
For those of you that don't know, when the Blade movie was made, Blade in the comics was no more a vampire than Spider-Man. His only special ability was that he couldn't be turned into a vampire by being bitten by one!
I could go on and on about the character's history, but I'll contain myself now and move on to the figure!

I wanted to do the Blade I like the best, which is the way he was in "Blade, the Vampire Hunter". He was a kind, nice guy that helped his landlady clean and that sort of things!
I used Movie Punisher as the base, simply repainting the body, adding a couple of knives to his legs (that originally sat on Punishers coat).
I used one of those black coats (that came with Urban Legends Punisher) to make the jacket. I simply cut it off and painted it, then added three toothpicks as spikes.
I wanted to use the Black Manta head that Arez used on his Blade, but when I finally decided to buy one on a website, I got a message from the seller saying that as he opened the package (I wanted it shipped loose for cheaper shipping) his 2-year-old nephew saw, and later the kid took the figure, ripped it apart and threw it into the toilet.
Maybe it was for the best, as paying $15 for a head is a bit much IMO.
So I looked through my loose heads and found Iron Fist. I waited until I got the awesome Dremel Stylus for my birthday, and then I modified the head a bit, sanding down the mask etc…
And there you have it! A Blade better than the Movie versions now graces my shelf and I'm pretty happy with it!

Thanks for looking!