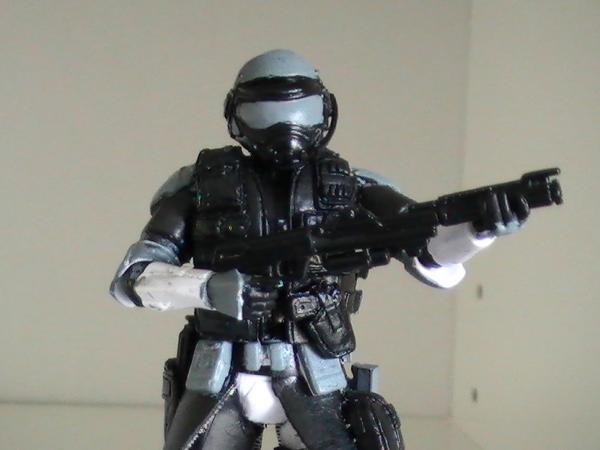 | | |
| --- | --- |
| Custom #: | 23474 |
| Name: | Black Hawk Commando Charcoal |
| Custom Type: | Action Figure |
| Toy Series: | Star Wars Clone Wars |
| Creator: | chain_mail |
| Date Added: | August 6, 2010 |
| Base Figure: | Phase 1 Clone Trooper (Legacy Collection) |
| Height: | 4.00 inches |
Figure Description/background:
This is Charcoal, a clone trooper from the Black Hawk commando battalion. The Black Hawk Commando battalion (478th battalion) was a legion of clone troopers, that assisted with special missions and assignments that were not handled by regular clone infantry (similar to the modern Black Ops Soldiers). This battalion was formed sometime near the middle of the clone wars, after phase 2 armor was issued to the republic. The Black Hawk battalion utilized special gear, including bullet-proof vests, communication devices attached to their helmets, and kamas. The main colour scheme of the 478th battalion is Black and dark grey.

Recipe:
This figure is mainly a combination of two figures, a phase 1 clone trooper, and a G.I. JOE Rise of Cobra Pit Commando figure.

Body: The body was used from the phase 1 clone trooper. I also painted the body using black and gray paints.

Head: In order to make the head, I had to modify the head of the clone trooper, so I could put the helmet of the Pit
commando figure on to the clone trooper's head. After I modified the head, I glued the helmet on to the head, and painted parts of the head gray. Lastly, I took a small piece of black plastic, and glued it to the Pit commando helmet in order to make the communication device.

Attire: The vest was take from the Pit commando figure, and was slightly modified so that it could fit on the clone body better. The kama was custom made out of vinyl, and was painted gray. I put the kama onto the figure by carefully gluing it into place using super glue.

Accessories: The belt was made from pieces of the clone trooper's belt. I also painted the belt gray. The satchel on the left side of the kama was cut off from a backpack from the pit commando figure, and was glued onto the kama. The bullets on the back of the belt were used from an airborne trooper. The pistol holsters were custom made out of plastic, vinyl and electric tape (the pistols are removable). The thigh guards were made out of synthetic rubber and electric tape.

Paint-job: As I previously mentioned, I painted the figure by using black and gray paints. I also slightly weathered parts of the figure by using a marker, and a combination of water and black paint.

Weapons: The pistol on the right side of the figure was taken from a clone wars figure. The gray pistol on the left side of the figure was custom made, and painted gray. The rifle was custom made out of a thin DC-15 blaster rifle, and a sniper rifle from the phase 1 clone trooper.