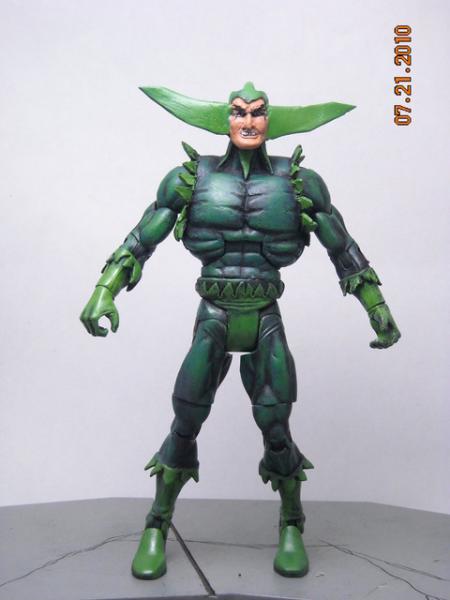 The villain formerly known as Plantman.
Origin Samuel Smithers was an assitant to a botanist who wanted to uncover the mental activity of plantlife. After a decade of research, the botanist died and Smithers took over his work. He wanted to try to find a way for humans to communicate with plantlife. With his work not taken seriously, Smithers was reduced to taking a job as a gardener.

When a bolt of lightning struck Smithers' experimental device, he developed the ability to control and animate plant life.

Seeking revenge against those who laughed at him and took his job away, Smithers became Plantman. On his revenge attempt, he was stopped by the Human Torch. He would later seek revenge against the Human Torch for putting him in prison, but failed once again. Smithers decided instead of revenge, his goal would be world domination, but he was foiled by Iron Man. Count Nefaria then broke Smithers out of prison to serve in his Maggia crime family. He and other lieutenants of Maggia ( Eel, Porcupine, Scarecrow, and Unicorn) fought the X-Men in an extortion attempt. Yet, the uncanny mutants stopped them in their tracks.
After Samuel escaped prison again, he used stolen technology from Maggia and terrorized London. This was thwarted by Namor and Triton of the Inhumans.

His constant experiments with plants paid-off when he succeeded in creating "Simuloids" which are plants given human form. He would often duplicate himself for mercenary missions. The Simuloids of himself have fought Captain America and the Falcon, the Defenders, Spider-Man, and even the Micronauts.]

SCULPTED HEAD TO TOE,PRIMER,TESTOR AND CLEAR SEALANT FINISHED OFF THIS FIGURE..