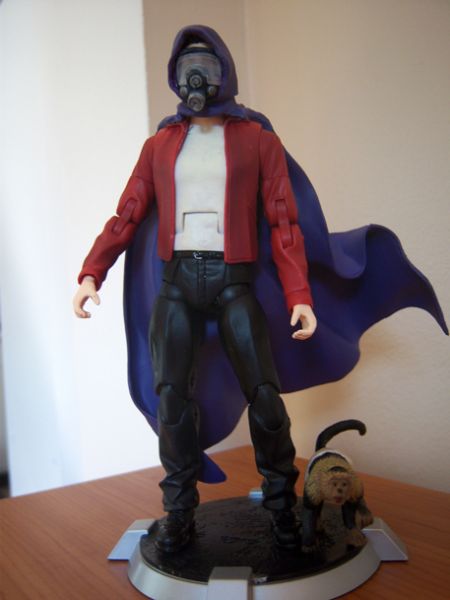 Here's Yorick Brown from the series Y: the Last Man.

I'd been wanting to do a figure for him for forever, and finally got the motivation to get going. I wanted to do something a little different this go around and decided to do swappable heads, which I think worked out pretty well.

First - the body is a 50's Angel figure and the cloak is from a DCD Wonder Woman Circa. The non-gasmask covered head is from DCD Alexander Luthor with hair sculpted on. The gasmask comes from a McFarlane Solid Snake with Angel's head underneath with the hood sculpted on.

As mentioned, this figure has swappable heads thanks to magnets (how do they work? ...is that meme getting old yet?). Honestly, this one was definitely a learning experience for me as it didn't quite turn out like I wanted. I had wanted to keep it so the heads could still move up and down, but since I couldn't get the magnet to stay glued to the stem of the ball joint, I eventually had to pass on that. As such, the heads can move left and right, but that's it. Next time I try something like this, I'm going to try using a steel ball in the neck and putting the magnets in the head to allow more movement.

Painting was minimal with this figure, which was nice... just basically the hood, hair, and chest to make the tanktop more of a t-shirt and that's it. I toyed with painting the pats blue to give it more of a jeans look, but honestly, I think the black works well enough and the benefit likely wouldn't be worth the effort.

Update! Thanks to some comments below I was able to track down a suitable monkey to use for Ampersand, who is now included in the pics. As the original figure came in a pretty much straight brown, it did need a repaint to a more suitable Ampersand color scheme and a sculpted on the diaper. Very easy, though he doesn't sit on Yorick's shoulder very well.

Thanks for looking!