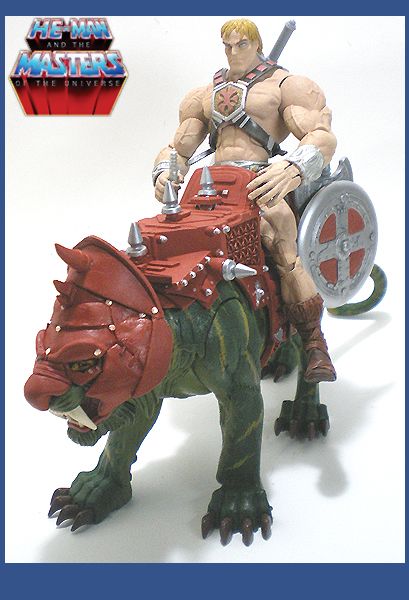 Given magical strength and weapons from the Sorceress, He Man is the most powerful man in the universe, and defender of Eternia. The source of his strength, the Power Sword is an artifact passed down from the Ancients of Eternia to protect it's people.

Battle Cat, He Man's trusty friend, is a moss tiger also raised by He Man's alter ego Adam. Although naturally fearful and known as Cringer, when the power of Greyskull is gifted upon him from He Man's magical Power Sword, he is bestowed his mystical armor and the is given great strength and courage needed to fight alongside with He Man defending Greyskull and Eternia.

Orko, a mage who is trapped on the Planet Eternia, away from his home on the planet Trolla. Orko is unable to fully access his magic in this different plane, although when he does, unexpected chaotic unintended effects occur, making Orko seem a joke as a wizard. Strangely enough this is untrue. His power is actually so strong, that even when severed from the essence of his power sourcing back from his home world, Orko is strong enough to will it to him, even if just slightly, across the planes of space and time!

Recipes

Battle Cat:
Samurai armor Battle Cat, cut apart the saddle, added parts from it and fodder to remake saddle, sculpted the mask, and complete repaint. The legs had hollowing on the interior, which was weird because it was visible, so I filled them in and sculpted some fur there and there to mimic the original sculpt. Then in paints, I tried to use real tigers and their colouring, and stripe patterns as reference to be a little more realistic than the flat green paints with lightning like stripe paints.

He Man:
head, torso, and upper arms: Savage Dragon. (removed fin, sculpted hair to fit)
lower arms and hands + sculpt to fit: Some jakks wrestler
hips, legs to knees: Marvel Legends series 3 Wolverine
calves and boots: Marvel Legends Sentry

Orko
base figure was a Lord of the Rings Frodo, which is unknown. Sculpted head and hat, altered fingers (for only three digits). The eyes had some glow in the dark paint added into the mix to help accentuate them under that big hat. Random fodder accessories for robes and cloak. Wrarrl's purse for Orko's "bag of tricks"
This figure was inspired by Madtinker76's Orko, which proved Orko could be done cool! Leaving me to want to the mystical mage version I tried here. Thanks Madtinker!
I thought I'd add Orko to this submission to the Legendary Riders contest because he's always riding He Man's coattails.