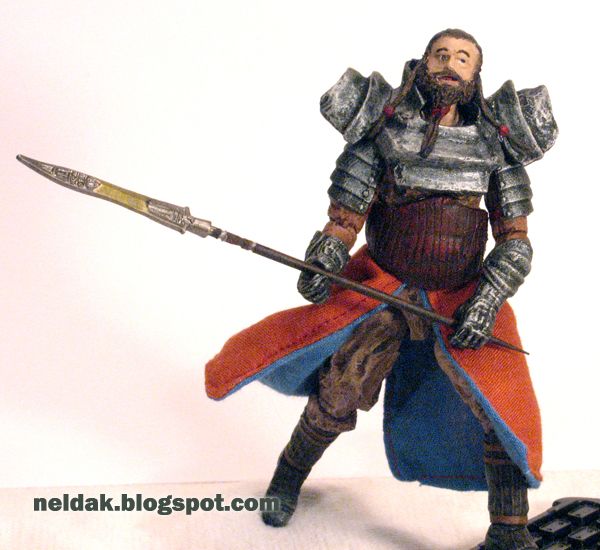 | | |
| --- | --- |
| Custom #: | 23986 |
| Name: | Hrothmeir (Armored) |
| Custom Type: | Action Figure |
| Toy Series: | Fantasy |
| Creator: | Hrothmeir |
| Date Added: | September 3, 2010 |
| Base Figure: | See Recipie |
| Height: | 4.00 inches |
When the Emporor has enemies on the borders and the army can't be trusted, for whom does he send? Hrothmeir, the mighty warrior, the strong psychic, the scourge of the outer hordes...

Okay, hope that got your attention. This here is Hrothmeir, the primary villian/protagonist of my forthcoming novel 'Prophets.' Suprisingly enough, despite what the toy series and opening paragraph may imply, is actually a Sci-Fi and not, in fact, a fantasy. And yes, Hrothmeir is my username, and yes, my forum image does bear a striking resemblance to this guy... The character actually came before I picked my forum name, but hey, I think he's an interesting character. If you want to know more about Hrothmeir or 'Prophets,' check out my blog, where you can read book one (E.H.U.D.) of the series ('Prophets' is book five. Yeah, it's long.)

As for the actual figure: I hadn't planned on making this character yet, but a contest came up on Hisstank, and thought that vissualy at least, the figure would work, even if the background needed some tweaking. So I slapped himtogether in about a week; wasn't fun. I'll list the major work, then the parts: cut up, resized, and reattached torso and legs; completely sculpted over said torso and legs; completely sculpted belt, pauldrons, and sculpted over armor; sculpted arms; cast head; paint job. The scirt was made by my mom. Thanks mom!

As a special note, this was my first use of Apoxie Sculpt. The stuff is miraculous!

Okay, Recipie:

Lower legs, Torso: 3oth anniversary "Anakin" Skywalker
Upper legs: 25th anniversary Roadblock
Pelvis: 25th Cobra Trooper
Upper arms: 25th Zartan
Lower arms, Breast plate: RoC Neo Viper
Braids, beard: Indiana Jones whips

And if you'll notice, the figure name says 'armored.' That's because I made swappable parts with which to make him unarmored! Those should come soon.

And if you've read all the way to this point, I say to you: Thanks.