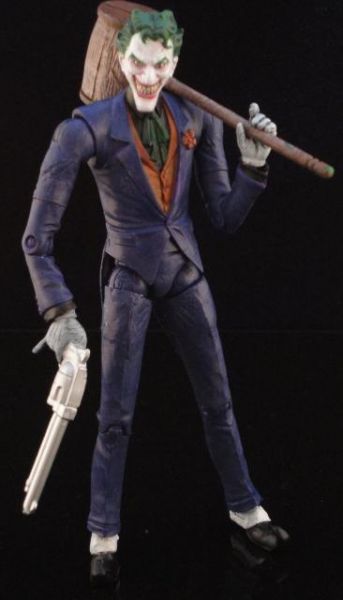 I don't know who all here has ever had their hands on the DCD Hush Joker, but I think its about as close to a perfect comic style joker we've ever had in figure form. It has awesome proportions, a really cool hidden torso ball joint, and an awesome sculpt. However, it does have its problems. Being a DCD figure, the articulation pretty much is not cool, his right hand is sculpted holding his gun, and though I understand the idea behind having an articulated mouth, it leaves him looking like a ventriloquist dummy. Actually, just in general I didn't really like the head sculpt. So I figured since this was going to be my first DC custom, I should aim for the fences. Whether or not the finished product got there is up for debate, but I'm very happy with this custom.

First things first, his face needed some work. I resculpted all of his features except for his mouth and his eyes, and trimmed some of his more wild looking tufts hairs, specifically the ones that kind of looked like horns. His shoulders and upper biceps are from a joker thug figure, and his crotch, hips, and upper thighs are from an ML Patriot, sculpted to match his pleated pants. Also cut his feet off and bashed Patriots ankle swivels and rockers into them. I left the elf toe curl on his shoes, cause though they aren't really iconic or anything, I feel like they fit. Gave him a full repaint, and a second set of hands, and here he is!

More pictures in the thread.