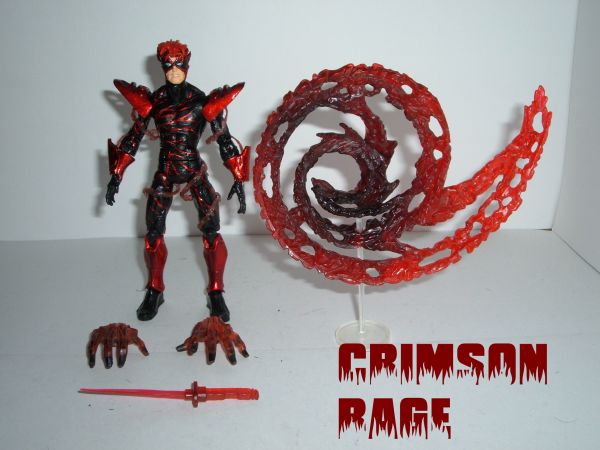 Anger, the primal emotion that leads the human body into becoming extremely hostile, but what if this emotion can be used as power source to benefit mankind.
Enter Dr. Victor Burns who has based his life's work on this theory. All his life he has been subject to anger directed at him in one way or another through abusive parents, bullies, co-workers and more. The doctor's first foray into anger was scientifically figuring it out to completely erase the emotion from the human race completely, but that was a silly pipe dream that made him the laughing stock of the scientific community. He instead created technology that would be powered by anger that worked, but it took an impossible amount of anger to keep them powered for long periods of time. Running out of funding for his experiments, Victor left to Asia where he heard a small order of priests that serve the Mantra King of anger live. It was said that these priest intake anger like food or water and allows their bodies fantastic powers that are beyond human belief. Victor knew if this was true and he could learn their secret it would be the missing ingredient that could power his technology and prove his theories. He found the priests and joined their ranks as a novice, he did nothing but meditate and fast for three years with never once seeing any of these amazing feats that were mentioned to him. One rainy night as Victor contemplated leaving the order, Victor and the priests walked through the town as part of their daily regiment, they bumped into some American sailors that picked a fight with the feeble looking priests. The priest used their learned Mantra martial arts to defeat the drunken sailors with ease, one of the sailors drew his gun and shot Victor in his chest, as Victor began to fall to the floor he became enveloped in a red aura that originated from the angry sailors carried through the ground to the Doctor's body. The aura broke and the once brown haired Victor had a head of fiery red hair, his body's muscles mass had grown three-fold and through this transformation the bullet that had been shot into the Doctor's thin frame was spat out by the increasing muscle mass. Victor did not move from spot where he was shot, he just outstretched his arms unconsciously and through his fingers red aura tendrils shot out and defeated the sailors that were still standing. When Victor awoke the priests were their knees bowing before him. The head priest explained that even with the little Mantra training he had received, the Doctor had reached a level of power that had not been seen for over five hundred years since the last human avatar of the Mantra King. Anger absorption is what the priests called the power given to the avatar, power that with practice could mold the very emotion of anger into whatever the avatar wants it to be. This is the power that he must use to defeat the twelve other avatars belonging to the other Mantra Kings as it is written in the order's ancient scrolls. After extensive practice with the priests, Victor returned home and used the technology he created long ago that would still is useless to anyone but someone with his unique constitution to tip the balance of power in his favor in the upcoming battle and focus the flow of anger into his body. Victor is living proof of his theory at work as he uses a negative emotion in a positive manner to battle the other avatars and evils of the world as a Crimson Rage, a hero for humanity or the Mantra King of anger's puppet only time will tell!
Crimson Rage can absorb the anger of one or more individuals in a yet undisclosed radius and use it to power himself. He can through focus create objects made from rage aura. His MADTECH suit stores excess energy, helps focus anger powers, shows level of energy through color (example; all black suit means off – all red suit means maximum power). This custom was made from Fantastic 4 movie Human Torch body, XMC Ruby Cyclops lower legs, ML Deathlock forearms, ML Falcon hands, DC Direct Crisis Psycho pirate head, odds & ends parts, and some sculpted hair & mask.

Sorry for the oddball origin story it was rushed, I made this custom for this contest with no type of understanding of the character himself, just what he would look like.