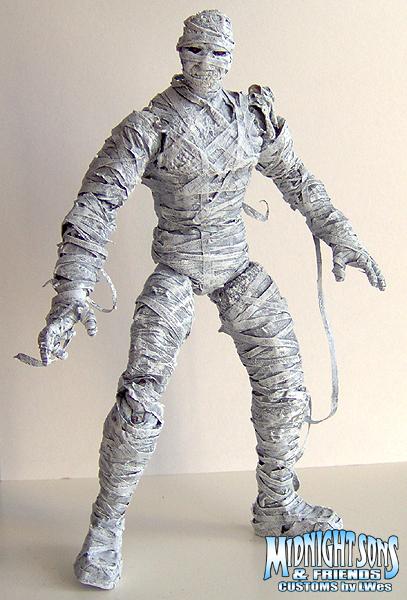 I didn't know who "The Living Mummy" actually was when I recently started reading Supernatural Thrillers. I thought it would be pretty boring and just something I had to read just to have read it, but I was really surprised to actually really like the character!

3000 years ago; N'Kantu was a great warrior and king of the Swarili, but he and his people were taken as slaves by Egyptians. When he led other slaves to rebel against their oppressors, he was captured by the evil Nephrus, who punished him by replacing all his blood with some special liquid and mummifying him alive. This liquid inside of him made N'Kantu immortal, so he was alive all those 3000 years he laid paralysed in a tomb. When he finally awakened in the 1970s, his body had decayed and at the same time become hard as stone, making him almost invulnerable and he also had superhuman strength. Half-mad after centuries of being paralysed, he stumbled around in a world much different from the one he used to live in.

While not truly a zombie, I thought the character was pretty close to being one. His body being dead and stale and all, I thought it was appropriate to submit him for the Zombie Contest.

I originally used a Mr Fantastic body as a base and it was going pretty well until I suddenly thought of the fact that the Living Mummy is supposed to be really tall and mine was just average height!
I made another custom using that body and instead used Vega from Street Fighter to make N'Kantu.
I tried to use several different materials like fabric and paper to wrap him in, but the final layer was some tape that I cut thinly. Since Vega's left hand is a closed fist, I changed it for a hand from some 5" figure.
I sculpted the head using FIXIT Sculpt and then I painted the figure, first grey, then drybrushed it with white.
Logically, the mummy should probably be yellowish or something, but in the comics, the bandages were still really white, so I went with that.
I'm happy with the face, because it actually looks like in the comics a bit!
On the second and third picture as you can see, I hadn't noticed that I hadn't done anything with the eyes yet. After those pictures I painted the eyes black, but I think I might change it, as they were just normal eyes in some of the comics and red in some.
There's not much more to say; I'm really happy with how the figure turned out, even though it took a really long time to make him.