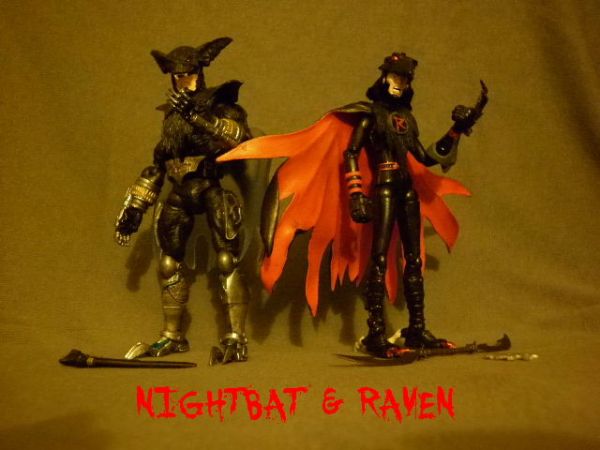 This is a tale of a Gotham City of alternate dimension, where a heroes became a villains and vise versa, welcome to the world of Nightbat & Raven.
An eight year old, Bruce Wayne just left the theater with his parents, they take a short cut down a dark side road to meet up with their driver and faithful butler, Alfred Pennyworth who got caught up in traffic. Out of the shadows came known petty criminal, Jimmy Gordon who shot the couple, looted the bodies, and ran off leaving the boy alive in a pool of his parent's blood. Alfred soon arrived to comfort the young Wayne and call for the police. The murder case was never solved and Bruce per his parent's will stipulated that he and the family fortune would be left in care of Pennyworth until Bruce turned of legal age to claim his inheritance. Those ten years were the worst for Bruce as kind and loving adult that was Alfred became a tyrant that mentally and physically abused the boy to keep Bruce under his thumb. Bruce was a strong willed child that ran and hid in the gigantic Wayne Manor from his would-be guardian for weeks at a time, eating from the garbage and sleeping in air ducts just not to face Pennyworth's wrath. Soon enough as Bruce grew into a young man it would become he who did the abusing, whether it was Pennyworth, neighborhood children, maids of the manor, and even hired guards, Bruce loved the feeling of bringing fear and having power. On the eve of his Eighteenth birthday, Bruce was confronted with the truth of his parent's murder at the end of the barrel of a gun that was held by none other than Pennyworth. It seems that Alfred was the mastermind behind the deaths of Bruce's parents; yes, the butler did do it to take control of young Bruce thus taking control of his inheritance. Alfred hoped that years of abuse would turn Bruce into a timid puppet that he could manipulate even after Wayne claimed his entire birthright, but that was not to be because of Bruce's strong will, so Alfred would have to settle for killing Wayne before he turned eighteen and take what he could get as sole beneficiary of the Wayne family. Bruce pulled out a gun of his own and shot the gun from Alfred's hand and then shot the butler dead in the face with such force the body flew back shattering a giant window panel as the body fell two stories to the ground. Bats flew into the opening and filled the room covering the room in shadow as Wayne stood there laughing as he considered this an omen. Pennyworth had squandered the much of the family fortune and his family's company was bought out by another supposed trusted friend of the family, Lucius Fox. Bruce wanted revenge on entire world, so he disappeared and traveled the world learning how to hurt, kill, and get away with it. Wayne came back to Gotham to bring the fear and pain that he believed he owed this city that birthed such men as Pennyworth and Fox. Wearing the mantle of a bat to cover this city in shadow, he sets out with likeminded individuals like Raven on a multiple murder and crime sprees to bring the city to its knees. To combat these madmen the police set up a unit with the sole purpose of bringing these criminals to justice. This unit nicknamed the Birds of Prey was made up of people who had dealings with Nightbat such as police detective, Edward Nigma AKA the Inquisitor, Prison guard captain, Waylan Marlon who had his arm cut off in a battle with Nightbat has since had it replaced with cybernetics which gives him crushing power of his namesake Crocodile, Officer Selina Kyle uses her gymnastic and fighting skills as the Cat, a childhood friend of Wayne, a Dr. Thomas Elliot joins the fight after Nightbat's bullets strafed his neck leaving him unable to speak, he became the Silencer, and last is the head of the task force district attorney Harvey Dent, whose wife Nightbat had thrown acid in her face scarring her for life, he has taken the codename Judge. With this taskforce and the heroic people's champion calling himself, the Jester on his trail, how long will it be before Nightbat and his murderous cohorts are brought to justice?

Nightbat was made from a ML Black Panther, HML Ult Wolvie head, LH Super Patriot lower legs, ML Ultron feet and fodder parts.
Raven was made from a ML X-23 and fodder parts.

THANKS FOR LOOKING!