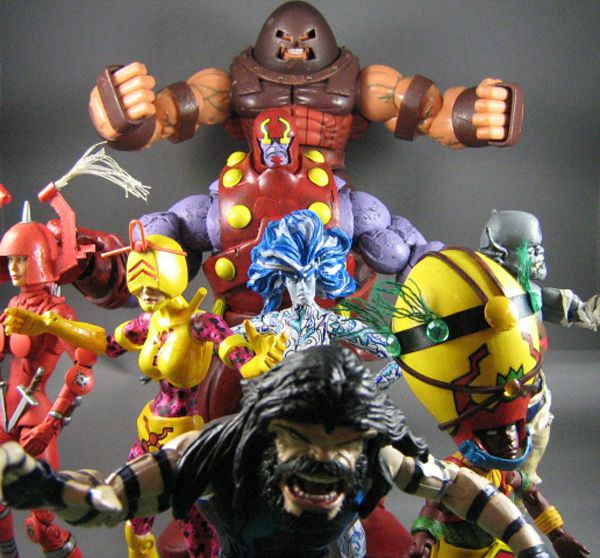 Millennia ago, there was a gathering of eight great mystic entities, Farallah, Cyttorak, Balthak, Ikonn, Raggadorr, Watoomb, Valtorr, and Krakkan, and there arose a disagreement over whose power was the greatest. To settle the matter, they entered into the Wager of the Octessence. Each created a totem, and each totem held a fraction of its creator's vast power and would transform the first human who touched it into an exemplar, a living embodiment of that power. The entities all used outside agents to build temples to house their totems. Once a mortal became an exemplar a spell would be triggered, drawing the others to temples, creating eight in all. Once the last of the Exemplars is empowered, they shall come together in the Ceremony of the Octessence, and create a great mystic engine, which shall overwhelm the will of humanity. Once free will is destroyed each exemplar shall take control of one-eighth of the planet and its population and then there shall be war until none but one last exemplar remains standing.
Juggernaut was the first exemplar, receiving his power from the Crimson Ruby of Cyttorak, and should have triggered the gathering of the others, but the spell was interrupted somehow, perhaps by the destruction of the temple. In any event, the call did not go out until the creation of Inferno. The disruption of the spell also allowed Cain Marko to retain his personality. All of the other exemplars were overcome by the power of their totem and took on characteristics of their mystic 'patron' and developed an overwhelming drive to complete the Ceremony.
The Ceremony of Octessence was disrupted by Iron Man, Thor, Spider-Man, Professor Charles Xavier, and Doctor Vernon Mann. They were assisted by the Juggernaut. The other Exemplars sought to kill Juggernaut for his treachery, so he fled to New York to seek protection from the Avengers. The other Exemplars pursued, and caught him. However, the Avengers attempted to save the Juggernaut, and although the Avengers were defeated, Captain America managed to reawaken the Exemplars sense of individuality, and the Exemplars original personalities became dominant. Realizing what had happened to them, the Exemplars fled.