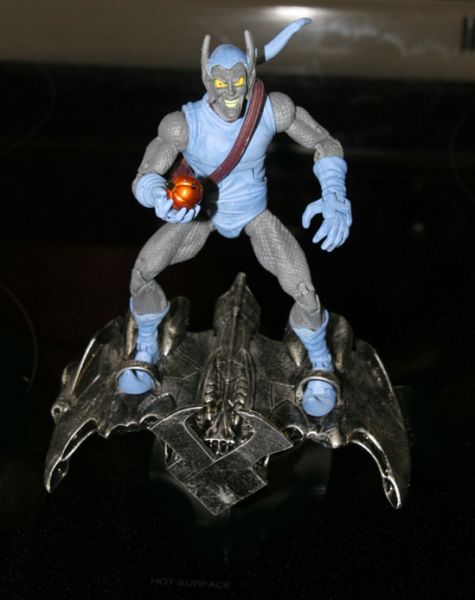 | | |
| --- | --- |
| Custom #: | 26669 |
| Name: | Gabriel Stacy / Grey Goblin / Gabriel Osborne / Grey-Goblin |
| Custom Type: | Action Figure |
| Toy Series: | Marvel Legends |
| Creator: | spider-man59 |
| Date Added: | January 10, 2011 |
| Base Figure: | Green Goblin |
| Height: | 6.00 inches |
Easy custom to do for the character, the hard part was getting the correct looking glider. The Grey Goblin is just a repainted Green Goblin, used Citadel paints. The Goblin Glider is actually the Demigoblins glider. Pull the head off the glider, made another using foam stuff. Spray painted black and the dry brushed silver. Comments and suggestions welcomed. Next up hopefully Sara Stacy!

Before her death, Gwen Stacy and Norman Osborn had an affair, because Gwen felt sorry for Norman. Gwen became pregnant with twins: Gabriel and Sarah. Norman took the siblings to France where he raised them, claiming to be their uncle. They believed Peter Parker to be their real father, and were furious that he abandoned them and killed their mother.

They later meet up with Peter when he visited the grave of Gwen Stacy, where Gabe and his twin sister Sarah attacked Peter in the graveyard. But as Peter escaped from them, they then managed to figure out Peter's secret identity as Spider-Man when they saw him manage to stick to a side of a truck that he escaped on.

Later they called Peter on his phone and tricked him into going into a warehouse where they had supposedly held Aunt May hostage. But Spider-man only realized it was trick after the warehouse he was in blew up. After that, Gabriel nearly beat Spider-man to death only to be stopped by his sister Sarah who told them they should finish him off later. and so they left Spider-Man there

Later on, they meet up with Spider-man once more on top of a bridge where Gwen Stacy died by the hands of the Green Goblin. Spider-man tried to convince Gabe and his sister to trust him, trying to tell them the truth of what happened to them. But though his sister believed Spider-man, Gabriel didn't and he eventually attacked him, trying to strangle him. But the police starting firing at him which stopped him and his sister Sarah got shot in the crossfire and he was kicked into the river below by Spider-man. Gabriel could only watch as Spider-man took his sister to the hospital for treatment.

Meanwhile, Gabriel went into the underground lair where Norman had told him to go years earlier. And when he arrived there, that was where he discovered that he was rapidly aging to the point where it would kill him, and where Norman had left his Grey goblin suit for him. On a video that prerecorded when he came over that he should take another dose of Goblin formula to stablize him. This ended up making him stronger and more insane then he was before.

In his new Grey Goblin costume and glider, he came after Spider-man while he was in the hospital and then he dragged outside for a fight, after the two battled back and forth. Sarah came into the scene as well and she shot down Gabriel's glider, and he ended up crashing into the ocean where he washed ashore somewhere else with no memory as to what happened.