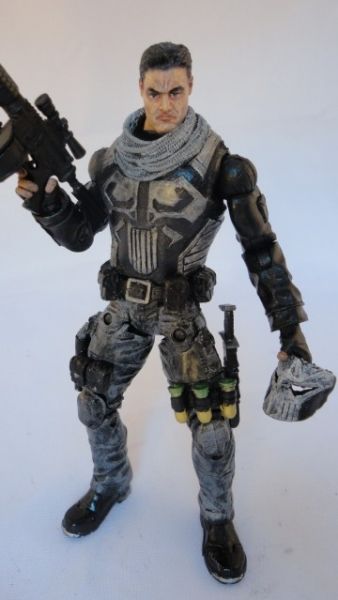 Next up is a bit of an experiment. I've been playing around with the idea of making figures for an alternate Marvel universe, and I thought I'd start with a pretty easy one since I had all the fodder on hand. Heres his little origin bio:


"Early during the Genoshan Human/Mutant civil war, tensions between the two species began to boil over world wide. Due to the general policy of most of the worlds governments to support humans in such affairs, Mutant riots became common place. The human police forces couldn't hope to restrain the mutant populations, and the governments couldn't openly use military force against them, in fear of civil war breaking out in their own countries.

Its believed that the newly authoritarian government in Britain came up with the idea of a wetworks squad of assassins to covertly take out mutant leaders around the world, in hopes of quelling the riots without a direct blame traced back to the governments themselves. However, it was a Frenchman by the name of Francois Chateau who would lead the squad. Chateau may have been young, but he was a hardened man who had seen more combat and killing than most older soldiers, and so kill he did. All over the world, mutant leaders began to disappear, and the riots began to quiet out of fear. Soon after, the wetworks team was disbanded, and its members went back to their normal lives.

One year later, members of the team were being found dead, butchered in their own homes. All of them sliced apart by razor sharp weapons. Finally, Chateau was the only one left, who moved his wife and child to a military stronghold, and barricaded them inside. The weeks ticked by, and no one killer came for them, but Chateau paranoia had become so great that he suspected everyone. One night, the facilities alarms sounded, and screams were heard echoing through halls. Chateau left his family in their room, and went to the source of the chaos. There he found guard after guard being torn apart by what appeared to be a young, lithe boy, no more than 13 years of age, with two blades coming out of the back of each of his gloves. When the killer spotted Chateau, he simply smiled, and with a wink cut off his attack, and disappeared. Too late Chateau realized that the boy had been a diversion. When he raced back to his families room, all he found there was blood and destruction. The sight of his murdered wife and child combined with the weeks of paranoia and all the havoc he had caused in his life, broke Chateaus mind, and has since left him a deranged man. He now believes himself to still be on his crusade to silence the threat of mutant upheaval, and everyone is suspect. He armed himself with special ammunition that had been made for his team that scrambles mutants X-Gene, leaving them defenseless, and a knife that is believed to be made from the newly discovered element adamantium. Francois Chateau was employed to punish the rebels, and Punish them he will."



So theres the silly story that'll get fleshed out the more of these "Whiskey-verse" characters I do.

He's an ML Punisher with Wondermans head, Ult. Nick Furys lower arms and hands, and ML movie Punishers lower legs and boots. The scarf is from a NECA Ninja Gaiden, and the vest is vinyl with the details sculpted on. I sculpted his face mask, using mineral oil on his face with I did it so that would be removable. You can't really see it in the pictures cause of shadows, but you can see his eyes through the mask. That was a messy procedure. His rifle I cobbled together from bits of a bunch of different guns and scratch built the drum magazine, and his uzi's are modified from some of those Toys R Us military figures with the oversized weapons.

Hope you guys enjoy him.

More pics in the thread.