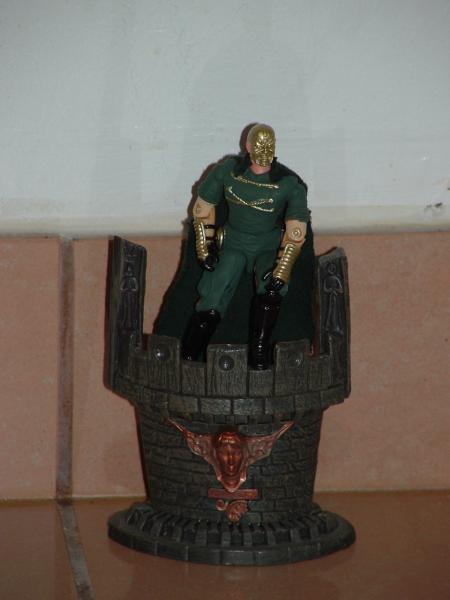 | | |
| --- | --- |
| Custom #: | 2705 |
| Name: | Genral VonDoom |
| Custom Type: | Action Figure |
| Toy Series: | G.I. Joe |
| Creator: | hawkeye |
| Date Added: | May 19, 2007 |
| Base Figure: | Random Joes |
| Height: | 3.75 inches |
At a young age Victor VonDoom's gypsy parents were killed by a mad tyrant. Taken to America and adopted by a kind family, Doom grew up a gentle and thoughtful man, until one day at university a classmate(Reed Richards) was killed in one of Dooms expearments. Victor found solace in Susan Storm. They were married and Doom made a fourtune working alongside Stark and Pym in the feild of cybernetics. After a few years Doom desired to discover his roots, which led him to Latveria. After many months of serching he was finally able to find someone who rememberd his family, and was disturbed at the horrors he learned they suffered. He became consumed by revenge and attempted a failed assination on the President of Latveria. As retubution, Doom was forced to watch the exicution of his wife and left to die in the vast Latverian wilderness. Years passed, Dooms anger grew, waiting for a time to strike. He built a robotic army with his fortune and secretly smuggled it into Latveria. When the robots struck they decimated the army until there was only the palace guards. In the final moments of battle, surrounded by thousands of "Doombots", a man in a golden mask walked into the throne room and slew the guards. He then proceded to tell the President the story of his life, including the story of his mask, a mask of sorrow, for all he had lost. He told the frighned man his name and waited until the realization of who he was sank in, and then shot the president. Finding his revenge left him hollow, he turned his prusits towards conquest, taking Latveria first and declaring himself King. Soon he became one of the most feared men in the world, overtaking any that opposed him, but his sadness still lingers.........