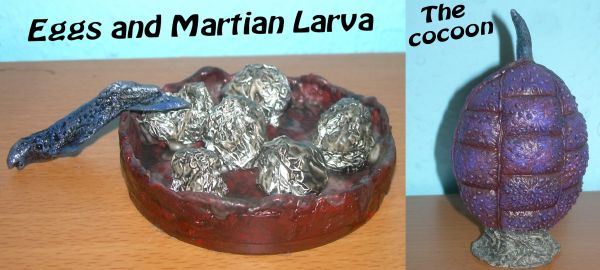 In the last mission to Mars in 2012, the astronauts found 6 organic-metal spheres that nobody knew what they were. It was eggs of Martian life, when the planet had water, and they had been buried under the surface. From the eggs,a blind and spineless larvas born and when they ate meat,they formed a big organic-metal cocoon.The first insectoid creature in appearing was the called Aquarian. It was an armored and aquatic insect, voracious as a monster able to crush the steel of the ships, with six sharp and poisonous paws. The NASA scientists were surprised because from another cocoon, a different creature born, called the Scavenger. It was a terrestrial insect, specialized in devouring all that he can to create burrows to preserve human meat. Finnally, another creature arose called the Seeker, that was biped and it had a long mouth to absorb their victim's blood, and two sharp paws as mortal weapons. The seeker is also the one who lays the eggs in the burrows dug by the Scavengers, while they are protected by the Aquarians.
Their cycle is completed in one week and they grow quickly but they can live more than two years. The human race is in danger of extinction and they can have been guilty of exterminating all the life in Mars.

These are my insects creations. I've created a new species for this contest. I've chosen Mars insects because could be a great notice to find life in another planet.
I've made this custom figures from plastic toy animals that I've bought in a chinese shop. The base figure to make The Aquarian was a lizard toy, for the cocoon was a turtle shell, for The Savenger was a koala body with turtle head, for The Seeker was an ostrich and the eggs and the larva were made with paper and putty. All the figures has 6 paws like the insects that were cut from another lizard toy and glued in the customs. All the custom insects have head, torax and abdomen, 6 paws and complex eyes. I ve use a lot of putty, glue and paint to make this customs.
My inspiration was real insect. For The Aquarian was a dragonfly larva, for The Scavenger was an ant and for The Seeker was a mixture between a mantis and a mosquito.

Hope you liked!