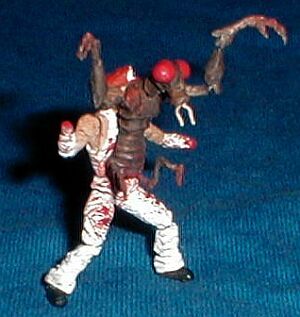 "Frank was always telling folks about UFOs in the skies over his garage but nobody believed his tales of alien abductions. Look at him now--what do you think?"

- Timesplitters 2 Insect Mutant Gallery Description.


A human-insect hybrid that appears as both an enemy and a playable character (if you can manage to unlock him) in Free Radical's Timesplitters 1 (2000) and Timesplitters 2 (2002) First-Person-Shooter (FPS) video games. Frank was just your average small-town auto mechanic until some visitors from the stars snatched him up and spliced his human DNA with select arthropods. Now, instead of tuning up engines, Insect Mutant Frank tools around Deathmatch maps, blowing away anything and everything that has the misfortune of crossing his path.


--------------------------------------------------------------------------------


Materials:
Newsprint, tissue paper, white glue, wire twist ties, acrylic paint, super glue, and ink.

Dimensions:
[NOTE: Due to the articulation, these values will vary depending on how the joints are positioned; the numbers given assume a neutral standing pose.]
1.7 cm/0.7 in. x 5.0 cm/2.0 in. (widest point x highest point)
(Frank is 4.3 cm/1.7 in. tall sans insect anatomy)

Articulation:
Twenty-three points: Necks (2), insect upper arms (6: shoulders, upper elbows, and lower elbows), human arms (6: shoulders, biceps, and elbows), insect lower arms (2), waist, and legs (6: hips, knees, and ankles).

Time:
Two days: January 27 and 28, 2011.