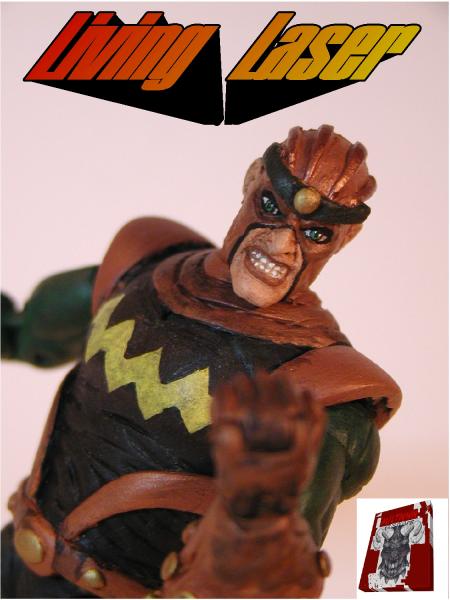 History: Arthur Parks was a research scientist who worked on developing the laser (Light Amplification through Stimulated Emission of Radiation) for use as an offensive weapon. Building the smallest laser capable of use as a weapon yet devised, Parks fitted two of the miniature projectors to his wrists and fashioned himself a costume. Upset by the breakup with his girlfriend, Parks, calling himself the Living Laser, first used his weaponry in an attempt to vent his rage against his ex-girlfriend's fiancé. However, he soon became infatuated with the Wasp, and in an attempt to impress her, began to lay waste to portions of New York City. Finding himself in battle with the Avengers, the Living Laser kidnapped the Wasp and fled the country.

The Avengers tracked him down in Costa Verde, a tiny South American nation whose guerrillas the Laser was aiding. The Avengers thwarted his schemes, rescued the Wasp, and extradited him to America. Serving time for his rampage in New York, the Laser freed himself from prison with the aid of the Mandarin. He then began a career as a henchman, working for the Mandarin, Batroc, the Lethal Legion, and others.

After suffering various defeats, the Living Laser spent over a year in his laboratory and devised a way to incorporate laser devices into his own body With the assistance of underworld scientist Jonas Harrow, Parks had an array of miniature laser diodes implanted in various places over his body. Defeated again by the Avengers when he attempted to procure the Serpent Crown, the Living Laser was then contacted by Count Nefaria, who offered to augment his power further. Agreeing, Parks learned too late that Nefaria was using him as a dupe to acquire superhuman power for himself.