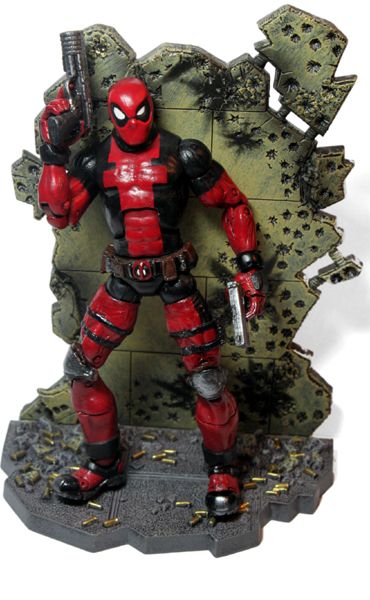 My first Deadpool, and it coincides with a Capcom contest! Randomly, this fits! Just like cat-dogs, chimichangas, and things that taste purple. While I can't remember if Deadpool was in MvC 1 or 2, I know he's in #3!

Recipe!
-ML Faceoff Punisher
-ML Airattack Wolverine (upper-legs, knees, forearms/hands, guns)
-Totally new headsculpt (with crazy-eyes!)
-ML6 Punisher (feet)
-DCUC Cyborg (belt, heavily modified)
-Rare Earth magnets (in his feet and back)
-Aves Apoxie Sculpt-it
-Random Accessories (from the fodder bin)

Resculpted the hand armor(/textured with a nailfile), Aves'ed-up the lower legs (to add bulk), and shoes. Dremmeled out the back, and installed a high power magnet/sculpted over. This allows for (sadly, not pictured) Ninja sword holster to attach. Dremmeled out the DCUC belt, added magnets, and attached over the figure's waist.

Tweaked the Airstrike Wolverine guns, and added magnets to his holster + grips. The attach to either side now, or can be hand-held. Technically, he could also hold them with his feet or back, (Deadpool-style!) since they're all the same polarity.

All the bands are sculpted Aves Sculpt or Rubber bands + sculpt. Zero paint rub, with awesome articulation/poseability.

The backdrop/stand is from a random ML figure. I dremmeled off the giant foot pegs, and added magnets underneath, and on the wall - Deadpool can stand without pegs (thanks to those magnets in his feet/sculpted over), and do wall jumps!

Painted with Vallejo paints/Citadel inks & sealed with Matte Vallejo varnish (+ superglue underneath on joints).
Painted straight lines (somehow!) without the aide of masking tape - just eyeballed with a ruler.
The backdrop received a treatment of MIG pigments (washes, then set with the fixer) + sealed with Citadel matte spray.