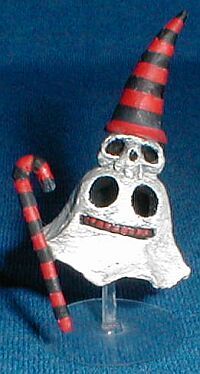 Your flesh breaks out in goose bumps as a horrifying apparition slowly materializes before you. Its' ghostly body, a stereotypical white sheet, is perforated with huge, vacant eye holes set above a wide slit filled with bloody teeth. A striped red and black cane floats at the specter's side, and perched on top of the wraith's head is a bleached skull sporting a matching conical hat. Certain that these are your last moments of life, you cower in terror. But, to your surprise, the shade does you no harm, instead, in a scratchy voice, it prophecies that an earthquake will strike your village and the surrounding countryside at dawn. The spirit goes on to advise that everyone must get out of their homes and seek open ground, prior to said calamity, if they hope to survive it. With that grave message delivered, the spook disappears again, leaving you shaking in both fear and gratitude.

--------------------------------------------------------------------------------

Phantoms are spectral demons that can be found in Atlus' 2002/2003 Gameboy Advance DemiKids: Light Version/Dark Version roleplaying video games (original Japanese titles: Shin Megami Tensei: Devil Children Book of Light/Book of Dark). The Light and Dark cartridge variations, while similar in the larger sense, feature different main protagonists and storylines, as well as some unique monsters and items--the idea, like in Nintendo's Pokemon, is that players with different versions will connect their Gameboy Advances to battle each other and trade/fuse monsters.

Phantoms can be encountered in random battles where they can either be slain for experience points and money or recruited to join your ever-growing Demonary (a demonic bestiary). Once a Phantom, or any other demon for that matter, has been enlisted, in addition to using it in combat, the specimen can be further augmented by fusing it with other fiends or items, thereby increasing its' powers or potentially transforming it into another creature altogether.

Contrary to their macabre appearance, Phantoms are actually friendly spirits. They often appear before the living, just before natural disasters strike, to warn them of the impending danger. If forced into battle, a Phantom can physically attack or cast freezing, healing, wind, and silencing spells.

--------------------------------------------------------------------------------

Materials:
Newsprint, tissue paper, white glue, acrylic paint, plastic (transparent base only), and super glue.

Dimensions:
2.9 cm/1.1 in. x 5.6 cm/2.2 in. (widest point x highest point)

Time:
Two days: March 4 and 5, 2011.