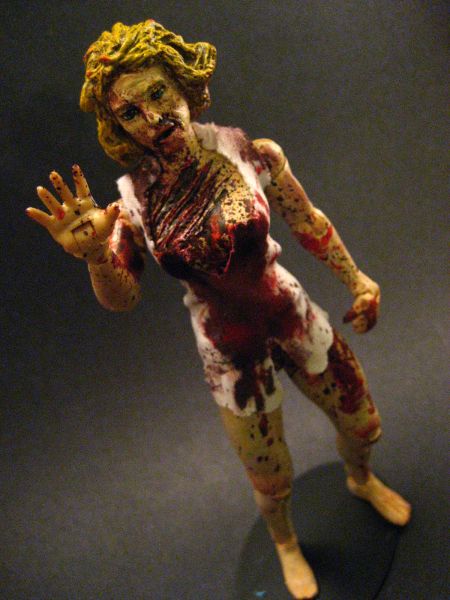 While Sleeping together in a house to "protect" each other, Tina Gray was Freddy Krueger's first victim during one of the best death scenes in Nightmare franchise history. Her boyfriend Rod Lane was blamed for her death even though he was innocent. (Played by Amanda Wyss.) Freddy invades Tina's Dreams, chasing her through imaginary alley ways unlike any freddy chase you will ever see. In failing to fight off freddy, Krueger Rips off his "FACE SKIN" and laughs at her. then back in the real world, tina's Chest is SLASHED!! blood pours from her as she screams while her Boyfriend Rod tries to wake her up. Next thing you know, she is lifted by some "unknown" presence and dragged along the ceiling, corner to corner, wall to wall... with slash after slash from her invisible Assailant!! Tina SCREAMS!!!! then, pleased with His Assault, Tina is released and falls from the ceiling into her bed. Red Blood Stained streaks cover the ceiling, and her boyfriend; Rod left screaming in terror!!

...Later .....

Haunted by her friends mysterious Death, Nancy starts daydreaming from lack of sleep. At her Highschool, she turns around, seeing a streak of blood on the ground. Nancy Decides to invsetigate. The trail of blood is comming from someone in a body bag, walking the hallways. when the corpse turns around, its her friend, TINA GRAY!!
"nancy.......NANCY!....."

Cast and sculpted custom Tina Gray Head
-heavily modified base figure, clothing ground down to give "naked appearance"
-carved feet from shoes.
-custom figure base and foot peg holes
-custom "slashed" flesh from Kruegers Blades!
-Realistic Paintjob
-Realistic Colored Blood
-she hulk dress, cut and bloodied!
-Custom made Body bag, with "zipper" front!

I hope you guys like this one as much as I do. FITS PERFECTLY INTO ANY NECA COLLECTION

and remember,

..............................Don't Fall Asleep.....
.......
....
..