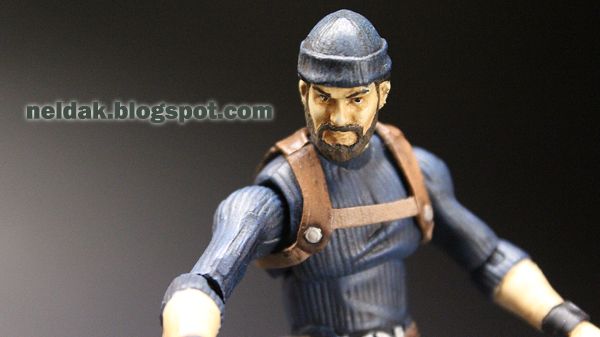 | | |
| --- | --- |
| Custom #: | 28158 |
| Name: | Shipwreck |
| Custom Type: | Action Figure |
| Toy Series: | G.I. Joe |
| Creator: | Hrothmeir |
| Date Added: | March 15, 2011 |
| Base Figure: | 25th Beachhead |
| Height: | 4.00 inches |
Wow, another Joe, what a surprise.
This guy was one of my first, starting construction sometime around September '09, give or take. Then, he just sat on the bench, partially constructed and with a black basecoat, until I finally finished him off December of 2010. This is technically the first figure I was payed to make, as we had nothing to do at work, so I actually painted him at my desk, at work, on the clock. Salary; it's fun.

As to the construction:
Head: RoC Shipwreck
Torso, upper Arms: 25th Comic Pack Beachhead
Lower Arms: 25th Gung Ho
Right leg, Lower Legs: 25th Snake Eyes
Left Leg: Another 25th Snake Eyes
Harness: RoC City Strike Snake Eyes

The inspiration for this figure was the Spy Troops, VvV version of the firgure from the mid 2000s. Had a nice modern sailor look. As for the legs: I really wanted a good, dual weilding knife look, but there were no good legs with port-mounted sheaths. So... I took a second Snake Eyes right leg, flipped it, shaved off the little pouch, and then sculpted some details to differentiate it from the other leg. Paintwise, I REALLY like how the upper body turned out (it looks better in person... I need better lighting...) The lower body... Hmm... I tried doing camo, but it ended up looking terrible, so I tried to paint over it, and... Yeah. I'm done now; no more messing around with it.

And that's all I have to say! Thanks for reading this far (if you really did!) and please comment!

13/4/11: Update pictures, using Canon t3I; great camera. Also, changed my lighting scheme. Before, I had a long-tube overhead flourescent, no tint tint, and a table lamp with an Obama-bulb, reddish tint. If I got rid of the lamp, the red tint to everything was gone, but the picture was too dark. So, I just repurposed the overhead. I set up a tripod with a mirror on it and used it to under-bounce the overhead. Not perfect, but much better. If you comment, please include photo tips. Thanks!