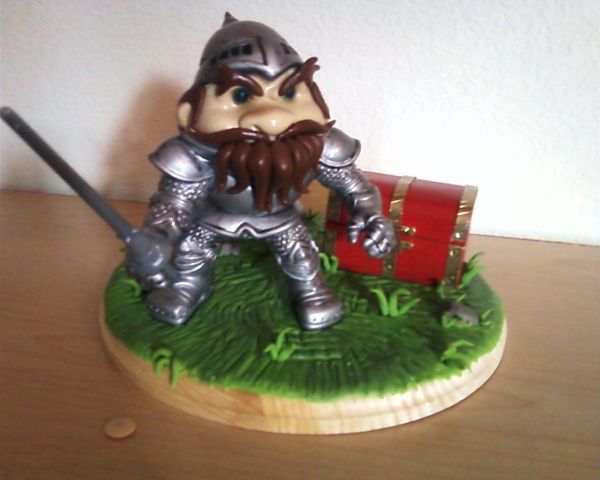 A series of video games that I felt always deserved some sort of figure, gashapon, statue, or even plush iteration is Capcom's Ghosts'N Goblins. Year after year G'NG was denied... until now. I immediately thought of good 'ol Arthur, the brave knight, when I read about the Capcomical custom contest. Although the actual red treasure-chests don't make an appearance until "Ghouls'n Ghosts," I included one in my submission even though the character is based on Arthur as he first appeared in 1985. (Hence the more comical and pint-sized proportions.) Hopefully I can get around to creating a Red Arremer for Arthur to do battle against!


Recipe:
Arthur = A Sir Trollahad Figure from the Battle Trolls figure line is used for the base body. Everything else is Sculpey III.
Base = A cheap pre-cut round craft wood bought at Michael's Crafts (usually used for home-made clocks.) Grass, tombstone, and rocks are all made of Sculpey III.
Chest = A small do-it-yourself jewelry box found at most craft stores.

Main Project
Base = Sir Trollahad Figure from the Battle Trolls
Helmet = Believe it or not, I used a plastic easter egg cut to the right size :)
Mustache, beard, eyebrows, sideburns, and feet = Sculpey III.
Grass, weeds, tombstone, and rocks = Sculpey III.
Grabbing skeleton hand and skull = A glow-in-the-dark skeleton Halloween decoration.(Repainted, of course...)
Treasure Chest = small do-it-yourself jewelry box

All pieces were painted with Montana Gold craft spray paints. Clear acrylic polyurethane was used for the color-washing as well as the protective coats.