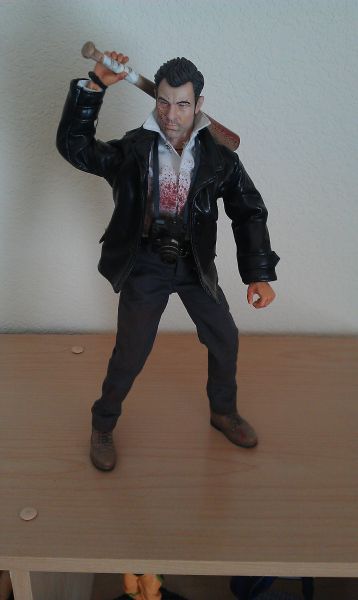 | | |
| --- | --- |
| Custom #: | 28287 |
| Name: | Frank West |
| Contest: | Capcomical |
| Custom Type: | Action Figure |
| Toy Series: | Capcom |
| Creator: | Ornclown |
| Date Added: | March 22, 2011 |
| Base Figure: | Hot Toys Truetype 1/6 Male Body |
| Height: | 12.00 inches |
We all love Zombies and we all love video games, right? Why not put these two ingredients together along with a totally awesome, yet unlikely hero, mix in some "Day of the Dead" and call it Dead Rising?!? Well, that is what our friends at Capcom have done, and in doing so we were introduced to Frank West. The photojournalist turned zombie-killer who has a penchant for getting into tight spots. This figure is a representation of Frank using a Hot Toys 1:6 scale TrueType male body and other accessories from around the 1:6 universe. A custom painted face and a few blood-splatter marks later and we have our very own Dead Rising Action Figure! I am surprised that Capcom hasn't optioned Frank and the gang out for statues, figures, models, or any other type of products that, at least I know I'd buy in a heartbeat. Zombies have been all the rage lately; from television and movies to figures and comics. It would be a win/win for Capcom... Until then though, 1:6 Frank will keep my toy shelf from being overrun by the 'infected,' because after all, he's covered wars, ya know....

Recipe:
Body = Hot Toys TrueType 1/6 male Caucasian body.
Head = Dragon WWII Soviet soldier "Bruno" with custom paint applications.
Clothes = Mostly from the Dragon WWII era figures mixed with Hot Toys "Dark Knight" offerings.

Main Project
After I dressed Frank up, I gave him a healthy dose of "zombie" blood which consists of Tamiya flat acrylic rust and brilliant red mixtures. I then added custom hair with super Sculpey, gave his eyes a realistic "wet" look with B.M Acrylic Polyurethane and extended his sideburns. His face was painted with a combination of Montana Gold artists spray paints, and Tamiya acrylics.

His trusty camera came strapless, so I used a thin strip of black leather and connected it to either side of the camera's rear. His hands were also given a bloodied look with the same Tamiya "splatter" mixture, just brushed on this time.

Finally, his weapons (and there could literally be thousands, but I chose only a few for my display) are a combination of BBI accessories and customs. The handgun, which looks an awful lot like a Ruger SR9 pistol 3301 Stainless Steel 9mm, and the shotgun (a classic 16 gauge pump action) both came from BBI's SWAT 1:6 accessories. The Sledgehammer is taken from BBI's Firefighter 1:6 accessories; and finally Frank's iconic baseball bat is a custom job I did out of Sculpey III and painted with Montana Gold Spray and Tamiya acrylics.