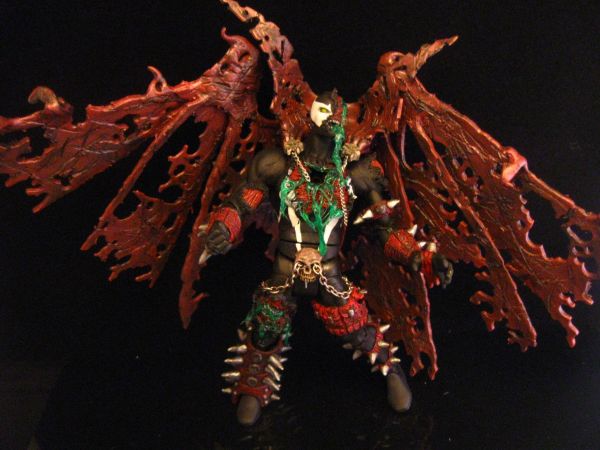 A deadly demonic virus,that causes its victims to become blood thirsty canabals, has been unleashed in Spawns city,and most importantly,his back alleys.After investigating the brutal,unmentionable murders and confronting many of the virus fueled killers,Spawn was approached by a mysterious cloaked creature.Claiming to be a betrayer of the one responsible for unleashing the virus,the wicked Clown!The creature,calling itself "The Filth",told Spawn how to defeat the virus unfluenced killers,the solution? Drinking their blood!The demon possesing the human host would be sent back to hell after being consumed,and the human would be released from its evil influence,although barely alive in most cases.With no other iptions left,Spawn decides to try the Filths way,and sets out on his own blood thristy mission!
Hot on the trail of a supposedly new,deadlier breed of vampire that feed more rappidly than any encountered in the past,Blade cuts a path through the alleyways looking to exterminate these wicked new foes.On a tip from a man whom Blade recently saved from these beasts,Blade loses himself in a maze like system of alleys.Dis-mounting his bike and hunting on foot,blade sees what he thinks to be the possible leader,or source of the new vampire plague,feasting on a woman.Without a sound,Blade releases his silver glave at an incredible speed!The silver blade carves a 6 inch trench in the foes skull,green fluid gushes out and the figure turns to face his attacker,and reveals himself to be non other than Spawn!
"STOP YOU %$&* IDIOT!""sreams Spawn"you don't understand!"
"I don't care for dialoge,or excuses!" Blade yells,charging at Spawn with deadly intent.Blade,firing his silver bullet spitting pistol,proves to be a deadshot,filling Spawn with holes.
"Why won't you fall?Dust?Guess you need some more punishment ugly"taunts Blade
"I'm saving this woman,you have no idea what your do-" but Spawn can't finish his words,Blades sword has been plunged into his chest at lightning speed,all the way till the handle itself sat in his chest!And as soon as Blade released his grip SPLOOSTECH! The timed spring released hanlde blades hinden in the swords handle erupt,blowing a fist sized hole into his chest."Now" Blade says slyly"Your dust"
Unable to speak,Spawn atempts to use his powers to heal,and just as soon as the healing starts,it ends.And so does Spawn.For the last of his finite powers had finally been depleted.He hears Malebolgia calmly laughing in his head.Green flames consumed Spawns body,growing in brightness and heat.until finally his entire body explodes with the power of and force of a pound of c-4,Spawn and Blade are both desinigrated in the blast.
But the fight doesn't end on earth,because only moments later,both opponents awaken in hell,and for Malebolgia's entertainment,he allows the fight to continue,only in constant pain and torment for both,in the flames of hell!

Whew!ok,well this figure was made with a dr midnit(ithink) base,lots of aves and testors.I had to be very carefull putting the hole in spawns chest,as to allow the arms to still move.the cape is from an old spawn figure,sculpted together and altered.he has two sets of hands,and two energy blasts that I made mostly from hot glue,both fit in his open hands.the cape can be attached to the wound on his back,and his collar sits on his shoulders,and he can still stand with the cape on even though it is quite heavy,Hot glue and clear green paint for the blood.This was a lot of fun to make and I appreciate anyone who took the time to look,and especially read all that!I never thought of myself as a writer,just a big comic reader dork and art dude, but had to give it a shot,hey,when an idea pops in your head you gotta get it out right?Thanks a lot again everyone!good luck to everybody!