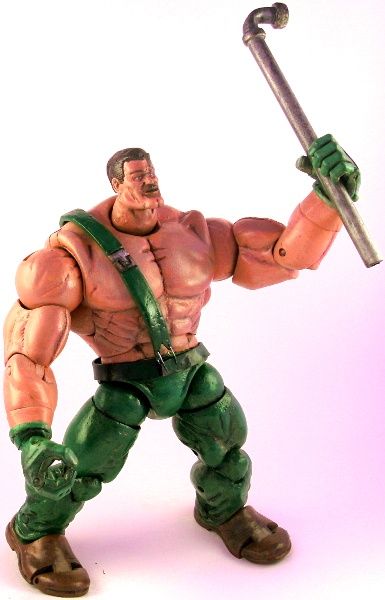 Here he is, Capcom's iconic character appearing in Final Fight, as well as Street Fighter and several other titles, Mayor Mike Haggar A.K.A. Mike "Macho" Haggar. Haggar is a former professional wrestler who became the mayor of Metro City. When Haggar refused to allow the Mad Gear Gang to bribe him, they kidnapped Haggar's daughter, Jessica. Haggar with the help of Jessica's boyfriend Cody and their friend, Guy, set out to save her. Haggar is commonly associated with the popular Street Fighter character Zangief because they are both large bodied wrestlers. Haggar's weapon of choice is a large pipe he uses to brutal smash his foe, which he can be seen with here.

This Custom was a last minute submission and I hadn't had time to add how he came to be. Originally, I started off wanting to make a Darkstalkers Sasquatch. After getting all the fodder together cutting, hacking, and dremeling it to size, a difficult task given his width and height requirements, I realized there was no way I would have the time to sculpt all the fur as I decided to enter the contest in the last week. So, I searched my fodder and researched characters and decided on Mike Haggar. He had been one of my original choices since I am more familiar with the game. I wish I had time to retake the pictures as well. The detail just doesn't show through here.

From there I found a head that seemed to be a good likeness. It wasn't until later I came to the realization that the scale was not the same as the old WWE figures. So I went to sculpting using the Hulks and T-Hawk as a reference as well as tons of Mike Haggar pictures. I settled on three different versions and made an amalgam. The neck was dremeled down and I removed the double ball joint and added a joint that swivels. I almost decided to use the legs of LCBH Clownface but decided the lack of joint movement and the extra height wasn't worth the mods required. The Smart Hulk's entire body was sanded down to remove the texture on his clothing. He got several base coats, washes, and plenty of drybrushing. The eyes were painted with a detail brush and the iris and pupils were done with whatever pointy object was next to me at the time.

Recipe:
Head- WWE Elite Ravishing Rick Rude completely resculpted.
Torso- IHC Smart Hulk.
Hands- LCBH Clownface.
Ponytail- LCBH Stryker.
Curl- Was made from cutting a sliver of ML King Hulk's chest strap with an exacto knife.
Arms- ML FA Gray Hulk with Aves Fixit Sculpt for the veins and gloves.
Suspender- ML King Hulk cut to fit. It is removable but I left enough in the slack for him to get a good amount of movement,
Belt- Rubber.
Weapon: Lead pipe was made from a shoe horn and sculpt

Many joint modifications were made including the biceps, neck, ponytail and wrists. Everything was painted with Tamiya Model Masters Acryl and sealed. Thank you for looking, comments are welcome and appreciated. Happy Voting!