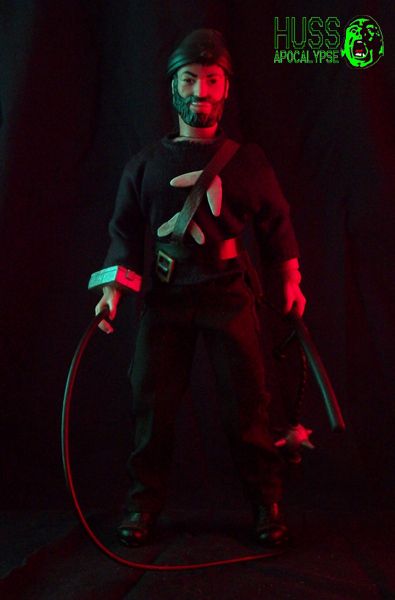 On the vintage box art he is described as the, "Man of many weapons," and, "Weapons specialist! Expert with bull whip or bolos, shinai stick or boomerangs!" Ladies and Gentlemen, boils and ghouls, let me present to you the one...the only...The Whip! You've gotta love a guy that walks around with as many ridiculously impractical weapons strapped to his body as possible. Except, of course, a gun, which would actually make sense.
Like all of the members of the P.A.C.K., at first glance The Whip appears to be more villainous in appearance. And although technically he fights for the forces of good as a member of the P.A.C.K.(which stands for, "Professional Agents/Crime Killers," in case you were wondering...), in my alternate reality Mego universe The Whip is an evil person who fights as a henchman alongside Big Jim's mortal enemy Zorak. This satisfies my OCD and levels the playing field between babyfaces and heels in this franchise, making it 3 guys vs 3 guys instead of 5 guys vs 1. Does that make sense? In my mind The Whip matches up well against Torpedo Fist, Dr. Steel provides a good foil for Warpath, and of course Big Jim dukes it out with the evil mastermind Zorak. This way of thinking provides my imagination with more interesting scenarios and conflicts when I ponder the trials and tribulations of the dudes trapped in the world of Big Jim's P.A.C.K!
The Whip was made using a re-strung CTVT male body with a Blackbeard head (which is a very versatile head; I also used one for my Super Joe Darkon custom). Most of his clothes also came from CTVT except his pants, which were swiped from a Flatt World Bela Lugosi. Not sure exactly where his whip comes from, but his bolo is from an old Thanos figure and his boomerangs were sculpted with Aves Apoxie. His billy-club and wrist com are from CTVT.
Thanks for looking!