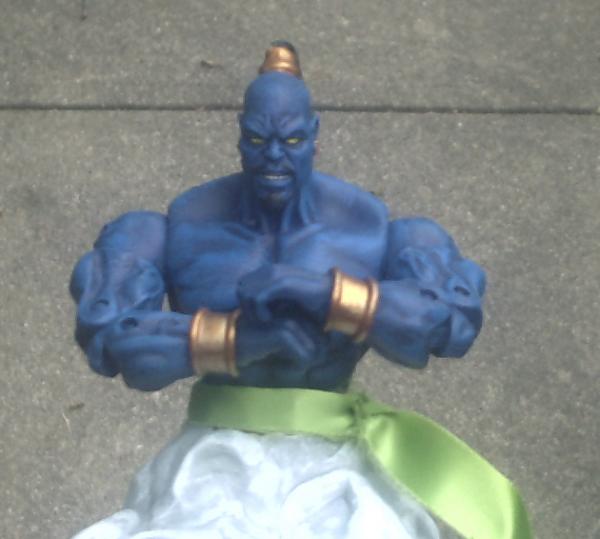 | | |
| --- | --- |
| Custom #: | 2931 |
| Name: | The Djinn of Mahranan |
| Custom Type: | Action Figure |
| Toy Series: | Marvel Legends |
| Creator: | greymonk |
| Date Added: | June 14, 2007 |
| Base Figure: | Marvel Legends Hasbro Hercules |
| Height: | 6.00 inches |
Malik was the eldest son of the Caliph Chezarra. One day the Caliph called Malik into his private chamber. Sit down my son, I have some news for you. Malik's heart began to pound as he anticipated his father's words. As the eldest son Malik stood to inherit all of his father's wealth and assume leadership of his father's lands. Since his father has been ailing of late, surely he was calling him in to announce privately that he will turn everything over to him now instead of waiting for his imminent death. Malik's palms began to sweat as he stifled the urge to rub his hands together. "Son, you know that I love you like no other, and it is with a heavy heart that I must tell you of your cruelty. Your reputation in the lands is one of greed and abuse, I cannot know these many years how it is you could be raised by me to fear Allah and yet turn out so filled with hatred. I cannot in all conscience surrender the leadership of these lands and management of the family estate to one who is so greedy. I will announce tonight that your younger brother Safir will be my heir." Malik blinked his eyes in disbelief: "father, I am the eldest, this is my birthright - you would deny me my birthright because I believe in strict rulership?!". "I was afraid you would not take this news well my son, and I want you to know that you and your family will be provided for as no other in the land, you know this...". "no other than Safir!" Malik interrupted hastily. With that malik stood up, turned his back on his father and left his home.

Malik wandered about in the desert for many days and nights, stomping upon scorpions and seething with jealousy and hatred. "Deny me my birthright? I will somehow find a way to make them all suffer for this scorn...I'll show them what cruelty really is as Allah is my witness!" Malik spat the words with firey spittle pacing back and forth angrily. "Allah does not care to witness your suffering Malik, but I do..." erupted a booming voice from seemingly no where. Malik wheeled on the voice and drew his knife, certain his father had sent a spy to follow him into the desert. "who speaks to the Prince of Mahranan in the familiar?!" "Oh I do not speak to the prince of Mahranan, I thought I was addressing the Caliph...or have you settled for the meager offerings of your father?" the voice taunted Malik without revealing it's source. "how is it you can know my woes stranger - as if you had first hand witness?" "I smelled your woes Caliph, from across the burning sands, like the sweet smell of sesame buns...I have felt your anguish through the leagues of blowing winds like the soft lips of a virgin bride." Boasted the voice.

"Show yourself coward, and tell me how you know me so!" demanded Malik. "shed your dispair and look up Caliph, for I have been here all along...restore your pride and gaze upon he that comes to offer you what has been denied you by right!" Malik looked upward, feeling the stiffness in his neck and realizing that the voice was right, Malik had been staring down for many days, ignoring the happiness of the sun. Malik's eyes narrowed as he gazed upon the blue figure hovering in the desert day. "what manner of creature is this before me?!" Malik said without thought. "Caliph, surely your father has told you the tales of my kind...or did you just put aside religious studies in favor of your schemes and poking at animals?" "A Djinn?! I never believed your kind was real..." Malik shook his head with disbelief. "I know, and you never believed that your father would choose Safir over you for inheritance either...My kind is drawn to the injustice such as has been put upon you, I merely come to set all right." "and how might this be done Djinn?" Malik fired back attempting to match the Djinn's playful taunts. "Never mind how I will do it, let's discuss the business of it...I will grant you all that has been denied you, in return I ask but a small and inconsequential thing from one who is to be so great..." Malik leaned toward the Djinn eager to make the barter "tell me Djinn, what is it then this small price you ask?"

Up for your Perusal is my interpretation of the Djinni that came to Malik to exchange Malik's soul for his birthright. For so long the Djinn have been numbed down into a cartoonish laughable and sometimes lovable creature, or a bumbling magically inclined hero. The simple truth is, the Djinn are a race of Devils, as described in Muslem religious texts and tales. Djinn are extremely intelligent (the word Genius comes from a description of thier intelligence) and thier penchant for evil deeds is beyond imagination. It is often believed they are trapped in a lamp or bottle and when released they grant the releaser three wishes. 1001 Arabian Nights did make this belief famous, but the Djinn don't generally give up the goods so easily. A Djinni wants his/her freedom, and at the same time wants the soul of the victem, ususally the Djinni trades wishes in exchange for the soul of the wisher. To add insult to injury, the Djinn have such an evil sense of humor, they will pun the wishes and turn it into a nightmare instead of the boon the wisher expected it to be. This is brilliantly illustrated in the Wishmaster Movies.

On to the Mechanics of it:
Base figure is Marvel Legends Hasbro Hercules
Head is a Bishop Head I accidentally ordered from Black Arachnis (or was it an accident?hmmmmmm) I used Apoxie to sculpt the hair.
The base was sculpted to make it look like his lower torso was cloudy smoke beginning to materialize into crossed legs - I sculpted this in Crayola Air dry clay which turned out to be a nightmare.
The clay cracks and shrinks as it dries and so I spent many days patching and repairing. I started with a frame of Aluminum foil (thank you Deadeye Samurai for the idea about tinfoil frames!). I heated and popped the legs of the herc, left the groin on so he can turn. The sash is real cloth scrap left over from my daughter's prom dress. Of all the customs I've done to date, this one was absolutely the most fun. I was making noises and booming voices and having fun while I was waiting for each stage of paint to dry. If I get nothing else from this contest, I had a blast making this fig and that makes it all worth it! Thanks for looking and I hope you enjoy!