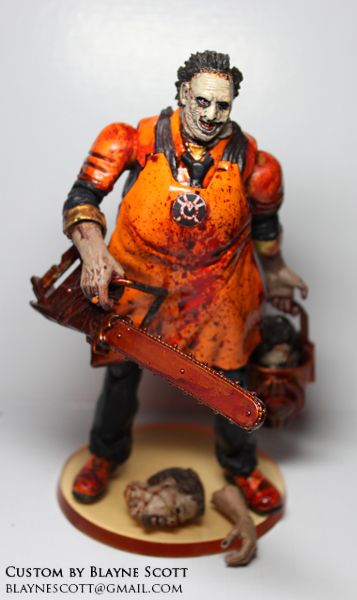 Avarice and greed powered this monster long before the Orange Ring found him in the Texas desert. Now, the screams and roar of his chainsaw construct fill whole worlds across the sector. Who will survive, and what will be left of them? Includes x2 interchangeable heads, magnetic cooking apron, Bucket/Lantern, body parts, and a custom cast orange resin stand!

This was another figure in a 'requested' line of HORROR LANTERNS I've made. Because I wanted the figure to match the DC Universe style I've used with the previous figures in the series, it took an interested array of parts and alot of Apoxie sculpt to bring this monster to life.

Recipe:
ML Ult. Sabertooth (base torso/sculpted over)
NECA The Spirit - (legs, modified)
McFarlane Leatherface, early series version -(head, forearms, feet, leather apron, chainsaw minus handle)
McFarlane Leatherface, later series version -(head, cooking apron, chainsaw handle, bucket/body parts)
NECA T2 Arnie - (shoulders/elbow, part of lower arms)
DCUC Black Adam -(inset/resculpted into T2 shoulders to give full DCUC range style articulation)
DCUC Kyle Rayner - (lantern logo, dremmeled down/resculpted on to Bucket-Lantern)
DCD Atrocious - (Lantern handle)
Multiple rare-earth magnets from GaussBoys
x3 Canadian Pennies (with nickel content/magnetic)
Custom cast orange resin stand
Black Aves Apoxie Sculpt
Gel and Liquid type Superglues
Citadel Washes, Vallejo and Tamiya acrylic paints

I cut down the leather looking apron to fit the figure's dimensions while keeping a permanent 'gut' on the character. I dremeled out the heads, and placed a stack of magnets in the sculpted neck stump that would attract to the cut-down pennies I put in the heads.

I spliced the feet from the older Leatherface figure on to the NECA Spirit figure's legs, reinforcing them with finishing nails, and sculpting over/resculpting the legs a bit.

After initial assembly, I resculpted the entire torso and areas on the arms to give the figure sufficient bulk and a lantern costume that combined with elements from the character (dress shirt/tie). Inside the figure, I put a few magnet stacks so the penny that I attached to a resculpted/cut down 'cooking apron' would click into place and hold firmly.

After the sculpting was done/cured, I painted it with Vallejo/Tamiya paints (Clear orange over Silver/gunmetal for the construct items) & hit it with various washes and inks to add a creepy level of grime & gore. I then sealed it with liquid type Krazy Glue for added durability, and sealed all parts of the figure with a Vallejo Matte varnish.

Hope you like him. :) Be sure to visit the comments thread for additional photos of this figure!