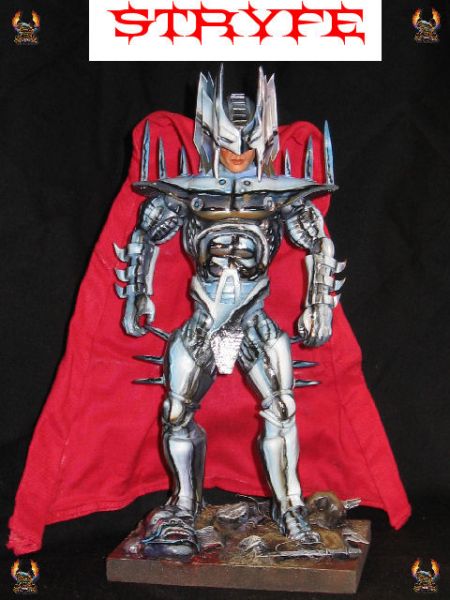 STRYFE: A BRIEF HISTORY...Stryfe is the clone of Nathan Christopher Summers, the son of Cyclops and Madelyne Pryor (a clone of Jean Grey); when the immortal mutant Apocalypse infects the infant Nathan with a techno-organic virus, a woman from the distant future introducing herself as Askani appears to Cyclops and Jean Grey, telling them that she can save the child. Once the infant Nathan arrives in the future, Askani clones the baby, hoping to salvage something if he dies. The clone's growth is greatly accelerated until he is the same age as Nathan himself. The Askani succeed in halting the spread of the techno-organic virus in Nathan's body, thereby saving his life. However, Apocalypse and his forces attack the Askani's hiding place and steal the cloned infant. Apocalypse takes the child as his own, raising him himself and naming him Stryfe, intending to use him as his next host body. As Apocalypse is about to transfer his essence into Stryfe, he discovers that Stryfe is in fact a clone, thus unfit to house his essence. A teenage Nathan and the time-traveling Cyclops and Jean confront Apocalypse, leaving him unable to transfer into any host body, thus causing his essence to discorporate. Apocalypse's second in command, Ch'vayre, raises Stryfe afterwards.

Stryfe grows up to be an insane madman, wanting vengeance on both what he thought were his real parents (Cyclops and Jean) and his spiritual parent, Apocalypse. He becomes an anarchist and terrorist rebel in the Nor-Am Pact region circa AD 3783-3806. in his alternate future. He raises an army and became a fierce opponent of both Nathan (now known as Cable) and his Clan Chosen, and the New Canaanites, a despotic regime that replaced Apocalypse's. During these wars he kills Cable's wife, Jenskot, as well as kidnapping and brainwashing their son, Tyler Dayspring.

STRYFE'S ARMOR... Well, for this custom contest, when I think of armor I think of Iron Man, Dr. Doom and other types that depend on their armor for protection and offensive weapons.
Rob Liefied was a genius at creating characters with crazy names that didn't fit the standard mold of names relating to character design and orgin. If it didn't have chrome it had to have atleast 10 pocket pouches on it and some white hair to get pass the inspectors at Liefield, Inc.

INGREDIENTS: UFC figure
cut blister card plastic for mask with sculpt
wood picks for the spikes
fabric for cape with twisty ties for bendablitly support
sculpt for the boots and gloves
belt was tablemat foam
wood picks for spikes
dremeled scar
wood block base with crayola clay air dried hard. wooden sticks broken with a few rocks
primed, painted and sealed

SPECIAL THANKS TO ALL THE CREATORS OF STRYFE WHO HAVE INSPIRED MINE:
BOSKOES, MYSTIC HEROES, ISSAIM98, LANSHARK1, GLENNWEBMAN69, ENIAM_REJ, JOHNNYCUSTOM, SILAYJOKER, JAZZ04PORCHE, X-FANATIC81, BALISCON, LOOSECOLLECTOR, COWBOYINK, WINGS, KYLE ROBINSON. If I've left any out, pleae forgive me.