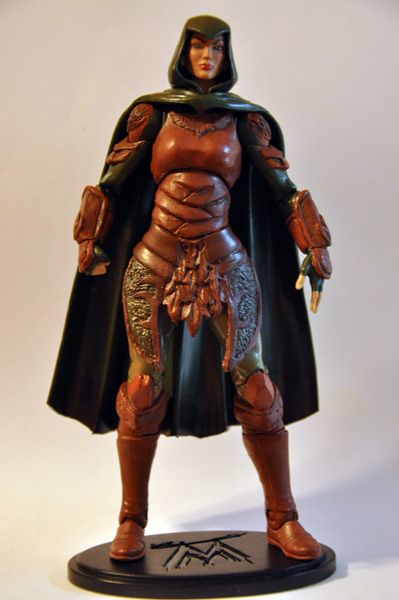 Elnes is my girlfriend's character in our D&D campaign, an Elven Beastmaster Ranger. Being a skilled adventurer of a noble birth, her armor is strong enough to put up to the wear and tear of everyday abuse yet still has some ornate details. Being a ranger, her armor needs to be lightweight and flexible, and allow her to blend in with her surroundings when stalking her quarry. While typically used to carrying a bow and sword, she has on occasion resorted to two-handing chairs and straight up punching guards when need be - hence the closed fist.

Recipe:
Body - WWE Michelle McCool (mostly for a strong female base with a closed fist)
Head - DCU Raven
Cape - DCU Batman

The base body was largely covered up with Apoxie to form the leather cuirass with crossed reed detail, the layered faulds protecting the stomach, leather spaulders, bracers and hand guards with leaf detail, pants seams down each leg, and the boot cuffs and knee guards (a work-in-progress shot to show what is Apoxie and what is base figure is included). The head required only minimal modification (to make the head fit on the larger peg) and painting. The cape was straightforward, cutting off the pointed lower edge of Batman's cape to appear smooth, then painting to look as if it had been dragged through the mud and forest a few times.

What took the longest was the lower layers of the faulds covering the upper legs. This was achieved by first sculpting the design from scratch as a flat piece in Apoxie, mirroring the design by hand. A mold was then cast in Alumilite High Strength 3 RTV mold making rubber. Once the mold had set, I spent several iterations trying to come up with the right consistency of resin to end up with a flexible piece with a similar amount of flex to the cape. Ultimately, I used EasyCast clear casting epoxy with green dyes to darken it, then primed and painted (after many attempts with other resins - still experimenting though). The end result is a flexible piece that has a little more give than the cape and blends in nicely to the upper figure, and allowing the legs to articulate as much as possible. The figure can still be fully articulated, with the base figure providing wide joints keeping paint from rubbing off.