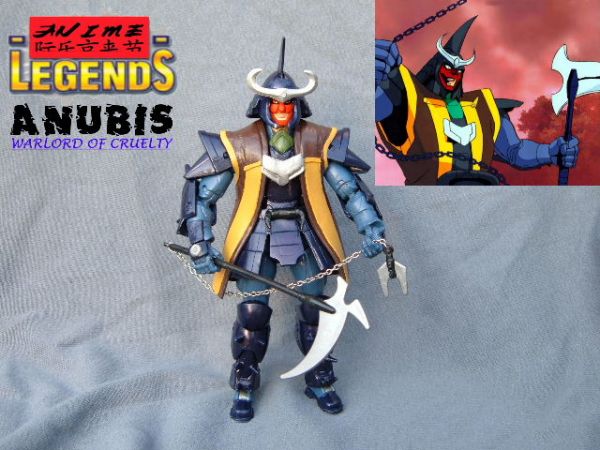 ARMOR UP!!!…This custom is one of remembrance as I raced home after high school to catch the latest episode of the Ronin Warriors or Samurai Troopers as the show is known in Japan. The show is about 5 brave young men who are direct descendants of some of Japan's greatest warriors; these young men appear when great evil threatens the Earth. Enter Talpa, an evil emperor from a Neitherworld dimension with a 1,000,000 year ago grudge against the planet. Leading his immense army are Talpa's four dark warlords who are also young men caught in the sway of the dark emperor's evil ways. The 5 Ronin Warriors who live their lives bound by certain jin or benevolences are given powerful suits of samurai armor by said jin…trust, wisdom, virtue, justice, and life to battle this great evil.

The character I chose to ARMOR UP, as a custom figure is Anubis: the dark warlord of cruelty. Anubis or Shuten as he is known in Japan, is the leader of the dark warlords; he wears the armor of ogres or demons, his main weapon is the sickle & chain, his jin is loyalty. Without spoiling much this character goes through a hard transitional phase, one that goes against his jin making him one of the better character of the cast.

I've had this custom recipe in my mind for years now; I still kind of rushed (week & a half) to make the deadline for this contest, still a long way to go as a prototype in case I make the other warriors and warlords, but I hope you enjoy this custom whether you're a fan of the Ronin Warriors or not.

Anubis: the dark warlord of cruelty was made from an HML Ultimate Iron man body, Sota SF Remy heads, ML face-off Red Skull hands, armor parts from the old 1998 playmates Ronin Warriors Anubis figure, and sculpting.

THE POWER IS IN THE ARMOR … thanks for looking!