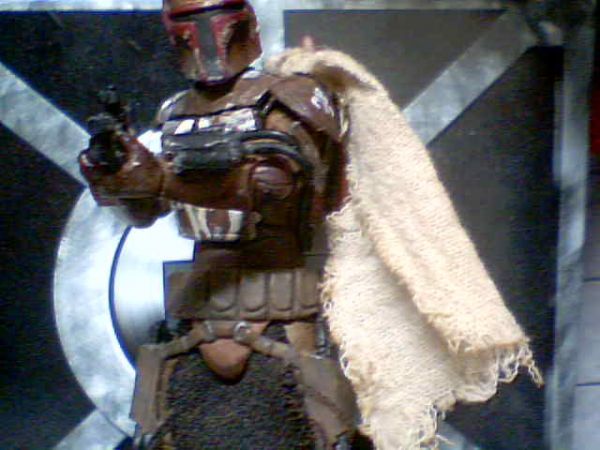 | | |
| --- | --- |
| Custom #: | 30661 |
| Name: | Bounty Hunter Bin Savot |
| Custom Type: | Action Figure |
| Toy Series: | Star Wars |
| Creator: | JayRay_Custom |
| Date Added: | June 30, 2011 |
| Base Figure: | Random G.I. Joe |
| Height: | 3.75 inches |
Another custom Star Wars character from my upcoming online photonovel, "The Nul Dynasty". This character will be the main bounty hunter, hired to hunter down the hero(s).

Now I'd like to say something about my custom figures here. I do a lot of customs. It's a lot of fun, and has really made for a great hobby. Ever since childhood, I've always loved my action figures, whether they were G.I. Joe or Star Wars. But I've always had a huge complaint with the lack of articulation in the Star Wars figures, which not until recently have they tried to improve upon. But even now, with very few exceptions, I can't stand how un-articulated the legs are. So for that reason, each and every one of my customs have legs from G.I. Joes, unless the main figure's legs are ball-jointed, like many of the current Storm / Clone Trooper figures. So, with my online photonovel (which I'm creating for my Web Design college class)taking place in the Star Wars universe, all of my current projects are a combination of Star-Wars & Gi Joe. I have several Bounty Hunter figures I'm working on, and all of which need super articulation for the screen shot poses. I see alot of negative comments about mixing Gi Joe with Star Wars, but I see no other way to achieve that articulation in the 3.75" action figure class. So with that said, you will see each of my figures using a Gi Joe base figure. Okay, on to how this one was made....

So for the recipe of this guy, well he was made from close to a dozen different figures. I'll break it down as best as I can.

BODY:
To begin with, the main torso is from a random Gi Joe, whose name I have completely forgotten, but the torso can be found on several generic Joes. The upper arms, or biceps, are from a Cobra Night-Creeper, lower arms and hands from a random Clone Trooper, head from a Gi Joe Jungle Duke, thighs and feet from the same g.i. joe as the torso, and the lower legs from G.I. Joe Shockblast, I believe. Add some re-paint, some weathering effect, and voila! Can't tell where a single part came from anymore.

GEAR: (here's where it gets tricky)
Okay, the helmet, Mandalorian chest armor, shin-guards and double holster-rig come from the "Apartment" Jango Fett action figure. I wish I hadn't done it, but I cut the removeable chest armor from Jango into pieces after seeing a Youtube video using this method, and re-assembled them by attaching the pieces to a scrap of real leather. The shoulder guards are loosely attached, with small bits of leather glued underneath. I actually did this because the armor would not fit over the torso of the figure I originally intended to use. Wasn't until after I'd already created the armor suit before I came across the torso which I ended up using instead, and having purchased another "Apartment" Jango since, I know that the armor would have fit. Oh well. Hind-sight's 20/20, right?

The tan cape is from the Gi Joe "Dusty". Front loin cloth (?) cut from a very expensive piece of wool fabric imported from London (no joke there...had the material left over from a life-sized Jedi robe I'd made several years back).

The backpack is from a different Jango Fett figure, and attached to the back by magnets which in hind-sight should have been better concealed.

You'll notice on his left arm some sort of projectile-style weopan, maybe a flame thrower or double-barrel blaster. This is made from a random G.I. Joe set of smoke grenades, which can be found glued to several different G.I. Joes in various places. The "hoses" which attach to the weopan are simply 14guage electronic wires.

His blaster rifle is custom made from a G.I. Joe shotgun, and blasters are random weopan inserts which come with the weopan packs in several "Clone Wars" Star Wars figures.

I painted the Bounty Hunter logo over his left shoulder guard, and attempted to create a custom logo for the front, which didn't turn out as well as I'd hoped.

Unfortunately, my digital webcam camera does not take very good pix, and I can't upload pix from my phone, so I apologize for the lack of resoultion in these pictures. The photonovel will be created using a much better digital camera which is currently in the pawn shop, but that's another story.

Well that's it. Hope you enjoy, and as always, may the force be with you.

Yeah, I'm a big geek.