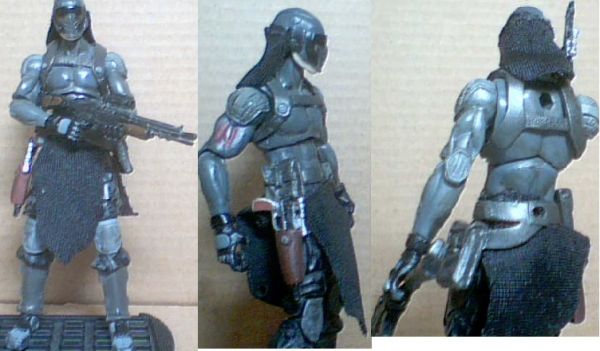 | | |
| --- | --- |
| Custom #: | 30693 |
| Name: | Star Wars Jedi Hunter Cyde Slatt |
| Custom Type: | Action Figure |
| Toy Series: | Star Wars |
| Creator: | JayRay_Custom |
| Date Added: | July 2, 2011 |
| Base Figure: | G.I. Joe City Strike Snake Eyes |
| Height: | 3.75 inches |
Here's another custom character submission from my upcoming Star Wars photonovel, "The Nul Dynasty". This character, Cyde Slatt, belongs to an elite form of bounty hunter whose sole purpose is to hunt down and eliminate the remaining Jedi in the universe. These Jedi Hunters are force sensatives, and trained from childhood by masters of the dark side in the ways of the Sith. Cyde Slatt is a humanoid force sensative who takes on the task of hunting down one of the main characters, a jedi knight of course, who has spent the last four years in hiding.

So this figure once again proves my theory that less is better. Very little customizing was done here, which I like since this is the only City Strike Snake Eyes i've found, and I hated to destroy that figure. But I really liked the lean sillouette of this Snake Eyes, and thought he'd look great in the Star Wars universe with a little customizing. I had an extra head from some other figure, and hollowed it out for the helmet, so that if I ever want to return the G.I. Joe to its original state, I can with very little effort. Wasn't easy finding a head small enough to fit inside the helmet, though, and so I had to do some serious modding to one of my random G.I. Joe figures, whose name I have completely forgotten. All I remember is that he was a red-head, and I "shaved" off all of his hair, replacing it with a hallowed out skull cap from another snake eyes figure. So I added some black cloth material around his waste belt and behind the helmet, added the holster, and a little bit of "weathering" paint here and there, and BAM! Instant Jedi Hunter. Took me all of like one hour to build this guy, excluding his weapons which took a bit longer. So here's the (short) recipe:

RECIPE:

Main body, belt rig, shoulder harness, helmet (and pretty much everything else)- G.I. Joe City Strike Snake Eyes

Head - Random G.I. Joe with red hair. Forgot his name. I think he came with a vehicle, but I really don't remember. The rest of that guy's figure was used in another of my characters which will be posted possibly tomorrow. Hair was removed, and I cut the top off and hallowed out the head of another snake eyes figure for the "skull cap" effect you see where the hair used to be. Had to do this to make it fit inside the helmet.

Holster - One of the various Star Wars Cad Bane figures.

Blaster - two parts here...Cad Bane blaster for the handle and scope, and Jango Fetter blaster for the main gun body and barrel.

Blaster Rifle - Stock came from Cad Bane's rifle, main gun from a Crysis figure, and the scope off a G.I. Joe g-36 assault rifle.

There's actually quite a bit of background story to the custom weapons I've created for alot of my characters, and this one's no exception. The rifle is built to be an "anti-lightsaber" blaster, as it fires a "spread" of lazer bolts in a shotgun style pattern, making it virtually impossible to deflect by lightsaber. The rifle takes "cartridges" which are pumped into the chamber much like a shotgun, with each "shell" holding 25-40 rounds or shots. I've custom built five different variations of this blaster, and you'll see it used quite often, mostly by other Jedi-Hunters. The pistol is designed to be a P.P.A.T. (Pin Point Accurate Targeting) blaster, and fires in a medium-powered but quick procession of blasts, firing as fast as the trigger can be pulled. Created for and used by those who desire accuracy and speed over penetration ability. Why am I writing all this useless information? Just to let you know that I don't just custom build the weapons for a "cool-looking" effect, I actually put some thought and imagination into their creation, and each of my customs will have a rifle or pistol with functionality tailor-made to suit his / her use.

As I said, I really liked this snake eyes g.i. joe, and I hope to find another one someday because he looks pretty bada$$ as a Jedi Hunter. With that black cloth on the back of his helmet, he looks extremely similar to Durge, IMO. And [retty much all the parts on this snake eyes are pretty unique to that figure, too, which sucks because I can see multiple uses for the legs, arms, chest....etc....

Well I hope you enjoy, and of course, may the force be with you.

You can go ahead and say it....I know I'm a geek and I just dont give a fork.