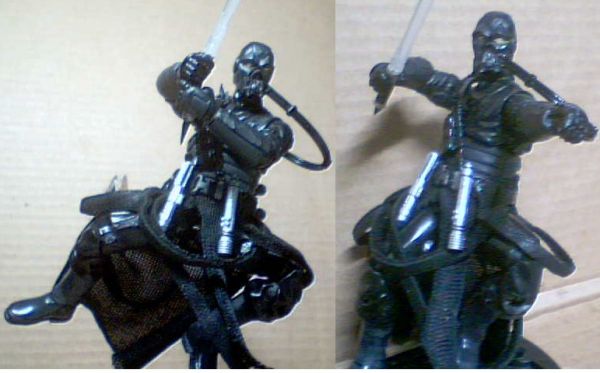 | | |
| --- | --- |
| Custom #: | 30751 |
| Name: | Jedi Hunter Cyde Kaott |
| Custom Type: | Action Figure |
| Toy Series: | Star Wars |
| Creator: | JayRay_Custom |
| Date Added: | July 4, 2011 |
| Base Figure: | Unknown G.I. Joe |
| Height: | 3.75 inches |
Another custom Star Wars character from my upcoming online photonovel, "The Nul Dynasty". This character is one of the "special" class of Bounty Hunters known as the "Cyde", a group totally dedicated to hunting down and eliminated the few remaining Jedi knights in my future-set Star Wars universe.

I really wish I could remember the name of the G.I. Joe this came from, but I can't...the package was destroyed and tossed five minutes after I purchased this figure from a random drugstore in Tacoma. I frequenty shop those places to find the really rare figures that are no longer sold in stores, and when I saw this guy, I immediately pictured the "Sith" style figure I could custom from him.

And so once again, I show you a figure that took very little customizing to bring out the dark side.

Recipe:

Body, torso, legs, arms, everything but the gear and the head - that unknown figure I found. And basically he remains unchanged other than the removal of red paint on his shin guards and forearm guantlents.

Head - Gi Joe Jungle Viper, with a customized breathing aparatis created from the front of a Star Wars Clone Trooper helmet, and the hoses from that breather from a G.I. Joe PoC Duke.

The gear was created by taking the belt and shoulder strap from a G.I. Joe M.A.R.S. mission threepack of weird cobra viper figures that have all been gutted and customized since purchase (bought that package really with the intent of using all three figures for creating bounty hunters). So that gear then got some thin strips of leather glued to it along with the black cape and the "trophy" lightsabers this hunter collects from his prey. As you can kinda see from the pictures, which don't show it very well, I attached some spikes to the shoulder strap from some Warhammer minis. I used to customize those things back in the day, and I have a ton of left over parts which are frequently used in my current customizing.

And that's it! The figure sat on my desk for about a week waiting for me to get to work on him, and when I finally did, the jedi hunter was built from start to finish in about two hours.

UPDATE: Since taking these photos, I decided he needed a gun, and so a customized anti-lightsaber blaster was added as well as a holster glued to the back strap of his belt. In addition, I know you can't see it in the pics, but around his eye sockets you can see the pink color of this guy's flesh. I decided he didn't need pink skin, and so the little flesh that could be seen was painted a dark maroon color, indicicating that he's not of a species with normal flesh tones. I guess the color can be compared to General Grevious's flesh, which can be seen only around the sockets of his eyes as well. Unless of course you take a look at the hidious action figure by Kennar of Grevious prior to becoming a cyborg....

Well that's all I got for this one. Enjoy the pics, leave some comments, and as always....may the force be with you.