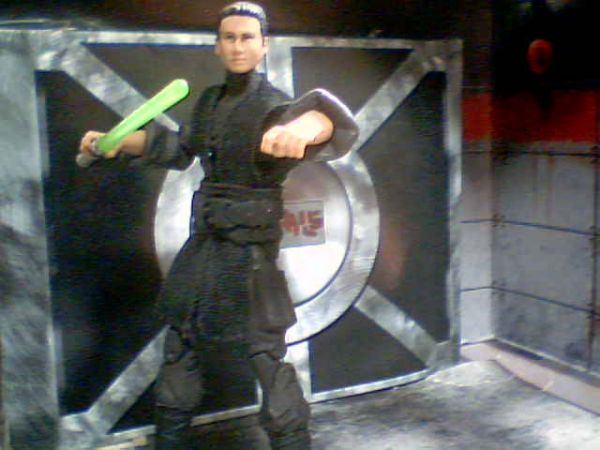 | | |
| --- | --- |
| Custom #: | 30754 |
| Name: | Jedi Master Dren Curdon |
| Custom Type: | Action Figure |
| Toy Series: | Star Wars |
| Creator: | JayRay_Custom |
| Date Added: | July 4, 2011 |
| Base Figure: | Iron Man Nick Fury |
| Height: | 3.75 inches |
I present another figure from my upcoming photonovel, "The Nul Dynasty". In this online comic, set a few thousand years after the death of Palpatine, the number of Jedi have been reduced to only a few dozen, and as they are in danger of complete extinction, certain Jedi Masters have fled and have gone into hiding while the great war rages on. This jedi will be one of the major characters being hunted.

Recipe:

Not a big list, but the parts came together pretty well. I wanted to create a jedi in garments more similar to Luke in RotJ, rather than the traditional browns and tans, to kind of give an impression that this jedi does not quite follow the traditional style of jedi.

Body....and upper legs - from a Nick Fury action figure out of an Iron man pack of figures I picked up from Toys R Us for customizing.

Arms....and boots / feet - Star Wars Legacy Darth Sidious. The arms from that figure, much like the entire thing other than the head, were hidiously dis-proportioned. And so, I took the hands from Jango, which extended the arms perfectly and made up for those short, stubby arms. I used the boots from Sidious as well, cutting off the Nick Fury boots and gluing these in their place. Worked really well.

Hands...and head - "Apartment" Jango Fett. I hated to tear that figure apart, but after tearing his armor apart to create the Bounty Hunter I posted on here before, I decided that the rest of the figure could be used to improve upon other customs. I used the head because it has this sort of arrogent facial expression to it, which is perfect for the sarcastic personality of Dren Cardon.

The gear was custom made from: black fabric material for the tunic. The belt was made by using a utility belt from a random G.I. Joe glued to an elastic band. I think the lightsaber came from a clone wars Jedi, whose name escapes me A.T.M.

And what I like most of all about this guy....NO PAINT! I like that because paint has that nasty habit of rubbing off no matter how much protective clear-coating I use.

Well that's that. Hope you enjoy, feel free to leave comments, and yuppers....may the force be with you.