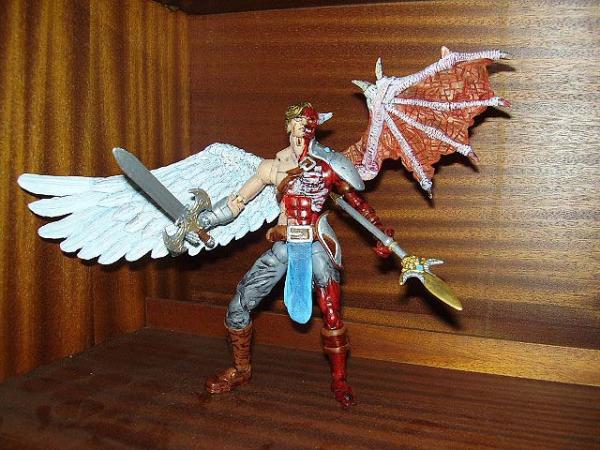 | | |
| --- | --- |
| Custom #: | 3085 |
| Name: | The Nameless Wanderer |
| Custom Type: | Action Figure |
| Toy Series: | Figure Realm |
| Creator: | Kern |
| Date Added: | June 29, 2007 |
| Base Figure: | ML Captain Marvel |
| Height: | 8.00 inches |
And there was war in heaven...

After God had created the Heavens and the Earth, he made made the creatures upon it's face, and then Mankind. And he saw that it was good.

God then turned to the hosts that inhabited Heaven, and sang his praises, and commanded them to bow down before Mankind. And almost all of them did.

The Archangel Lucifer, however, considered this an insult, and rallied discontent amongst other angels who felt the act was degrading since they were God's first creation themselves.

And these angels numbered 133,306,668, and sided with Lucifer as he gave his declaration of war: and stated that "I will ascend to Heaven; I will raise my throne above the stars of God; I will sit enthroned on the mount of assembly, on the utmost heights of the sacred mountain. I will ascend above the tops of the clouds; I will make myself like the Most High."

They faced an army of 266,613,336 angels who remained loyal to God, and were cast down to Hell as punishment for their insurrection. Lucifer was struck down by Jesus his self, falling like lightning into the Abyss.

Near to the end of the war, two great weapons were forged, one for each side: for the side of Heaven, the great silver bladed Demonslayer, and for the rebels, the golden headed spear known as Destiny. Both were imbued with great power, and both were feared by each army. For each were capable of destroying completely, yea, even down to the soul that all living things contain.

The end of the war brought with it the problem of these weapons, for once made they could not be unmade, as both had been made from the threads of creation – to unmake them would be to unmake creation itself. Nor did each side want the weapon of the other, fearing that it's mere presence would corrupt them, and also that it would be the forefront of a first strike against the two hosts.

After many years of debate, a plan was formed and agreed upon. Both side would select one of their own, one male, one female. The two would then copulate and produce an offspring – and, being of both sides, the child would be given the task of guarding the two weapons, so that only an approach from both sides would allow him to surrender them.

And so it came to pass that the child - half angel, half demon – was brought into creation. Raised by both sides, and blessed and cursed by God and Lucifer their selves, he was cast out of both Heaven and Hell unnamed, forced to wander the Earth and creation until the end of all things.

Time and again, the warriors of both sides have attempted to take Demonslayer and Destiny from him, and time and again they have failed and been thrown back, often resulting in the loss of entire worlds. For his is a lonely existence, ever wandering, always to battle, never to find peace...




Captain Marvel base, XMC Nightcrawler left arm and leg, Boromer right leg.

XMC Angel wing.

Half a Cap Marvel head, half Caretaker.

With thanks to Deadeye for the other wing.