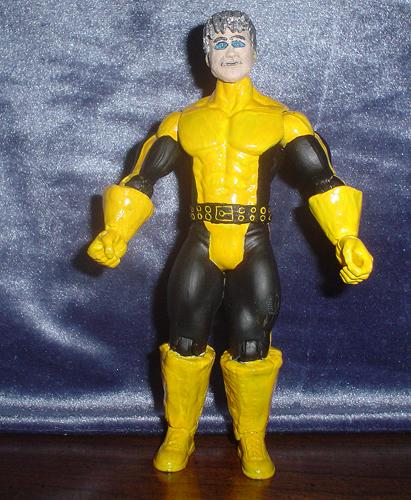 | | |
| --- | --- |
| Custom #: | 3100 |
| Name: | Streak |
| Custom Type: | Action Figure |
| Toy Series: | Original |
| Creator: | Punstarr |
| Date Added: | June 30, 2007 |
| Base Figure: | Randy Orton WWE Ring Rage |
| Height: | 7.00 inches |
This is a character that began as a Heroes Unlimited/RIFTS character when I was but 16, and became a running character who I made for just about every game under the sun, even if only just for fun. Most recently, he was a character in City of Heroes. Below is his interesting history.

His face, hair, boots and gloves are sculpted with air dry clay. His belt is actually two rubber bands. Note: Streak's hair is metallic silver (chrome) and his eyes are pupil less, glowing a soft blue.

History: Kevin Tyler was born in Seattle, Washington on the planet Earth in a dimension quite similar to Marvel Earth, and yet quite different as well. His world was home to it's own superheroes, albeit different than the ones you, true believer may be familiar with. Kevin's birth year was 1974, and he grew up one of 3 brothers in the culturally rich district of Ballard, his family of a heavy Scandinavian descent... his parents weren't rich, but not in abject poverty either. He had some nice things growing up, but was not even close to being spoiled. He and his brothers graduated high school within the same 4 years, and Kevin's goal was to become a police officer. However, as so often is the case in stories such as this, things didn't quite work out as planned.

Kevin planned to train at the academy after taking the summer off... he and his girlfriend had gone to a Seahawks game and were driving home one night in her car when a weasely man stopped them at gunpoint and told them to get out of the car. Kevin got out and tried to wrestle the gun away from the man, while telling his girlfriend to take off and go for help. As she drove off in a panic, the man pistol whipped Kevin on the back of the head, knocking him unconscious. Little did Kevin know, the man was connected and was quite desperate. Sam Geral had gotten himself in over his head with the local mafia, and was marked for death if he didn't do a job... go out and grab a healthy "volunteer" within one hour and bring him back to their pharmacuetical research facility. Thus was Kevin brought before these shady "doctors" and Sam Geral was murdered for his efforts.

When Kevin awoke, he was strapped to a table with an IV in his arm. He was told that he was the test subject of a new kind of poison, meant to kill a healthy man within seconds and leave no trace of any foreign substance for an autopsy to find. Despite his shouts of protest, he was injected with the poison as his murderers watched in rapt fascination. Kevin did not die, however... in fact, the poison would indeed have killed a normal man, but instead, the trauma triggered his latent mutant genes, and his powers erupted in a spectacular fashion. Tearing himself free with ridiculous ease, Kevin made short work of his captors. The destruction attracted the attention of the police, who had been trying to find him after his girlfriend had contacted them... they arrived in time to save most of the criminals' lives, and to take Kevin into protective custody.

Kevin was of course frightened and in shock, but fortunately for him, there were programs run by existing superhumans to help new blood to learn how to use their powers responsibly. He was adopted into Seattle's premier supergroup, the Defenders and he took the moniker of Streak. He quickly befriended a wisecracking super speedster named Bolt, and their friendship grew over the years. Streak came to be well loved by the public of Earth... he helped to save the world too many times to count, and for once he was truly happy. He could help people, but on such a larger scale than as a cop. That all changed one fateful day when without warning, a pale, gaunt creature calling himself the Grim Reaper attacked the Defenders' HQ. He was utterly merciless, and slaughtered the heroes like cattle before his deadly touch... nothing they dished out seemed to even scratch this silent being, and all seemed lost. Streak had landed blow after blow on the Grim Reaper, all for naught... knocked back, Kevin looked up to see the deadly being standing over the terrified form of Bolt, reaching out to deliver the icy embrace of death to his friend. Giving a shout of pure panic and rage, Streak flew in a blur to intercept the Reaper, locking hands with him... suddenly they were both enveloped in a bright light, and in a flash, they were gone. The few surviving Defenders saw the Earth's greatest hero sacrifice himself... they could only assume him to be dead.

From Streak's perspective however, the bright flash subsided, and the Reaper was nowhere to be found. A bleak landscape stretched out before him, and he heard a voice... faint but very clear. It told him that he had been chosen to be a guardian to the multiverse. He would never call any world, any dimension home... instead he would be taken where and when was needed, to protect the lives of the innocent, to fight injustice... to keep the forces of evil and corruption in check, never knowing when he would be transported to his next destination. He would be a beacon of light in the darkest times, and wholly removed from the cycle of life and death... immortal but unable to concieve. Thus did Streak begin his journey, and did indeed fight many evils in that world, before he was taken to the next, and the next, and the next. Sometimes he stayed in one world for mere hours, sometimes he stayed more than a century... for several thousand years (possibly more, possibly less... he finds it difficult to keep track) he has been a traveller, all the while becoming more and more hardened. He has loved and lost many times, each time more painful than the last... now he rarely even lets people get too close, for fear of the hurt when he either outlives them or is taken away. Yet through it all, he remains steadfast in his belief that he exists for the greater good. He is weary but he fights on... after all, he has little choice. He is Streak. He is a force of the Universe. Evil beware.