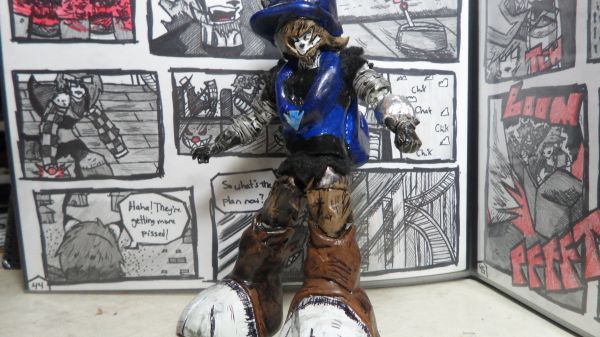 | | |
| --- | --- |
| Custom #: | 31046 |
| Name: | Ryu's Krew: Ryu [Sotg] |
| Custom Type: | Action Figure |
| Toy Series: | Web Comics |
| Creator: | ryuskrew |
| Date Added: | July 14, 2011 |
| Base Figure: | Dragonball Z Ultimate Figure Series Super Posable: Gogeta |
| Height: | 4.00 inches |
Over a year of hard work was put into these 3 customs I'm uploading (Soldiers of the Gods from my Web Graphic Novel series, Ryu's Krew. I spent the majority of that year working on sculpting.

At first, I started out with 3 NECA Street Fighter IV Ken figures, and I ended up not really liking how it was coming out, and eventually my Dremel tool broke (it wasn't a Dremel brand rotary tool, it was an old Craftsmen one) so I got discouraged. Maybe two months after that occurred, I got reinspired. I went into my back garage to peruse my old figures I would play with as a kid, and came across my set of super poseable Dragonball Z figures. Remembering how much joy I had, I looked at these, and knew that these were the perfect base figures for my project. Plus the face shape, and even the pants seemed perfectly for them. No other figure I could find would've worked better in my opinion.

So, a few months of sculpting on and off, working with the most basic of tools; an exacto knife, a box cutter, a small razor blade, and some sandpaper, I managed to finish the sculpting. Sculpting obviously took the longest, because I sculpted everything. I didn't use any other parts on the figures, except switching out Archound's arms (which I'll talk about in his submission). So needless to say, all these figures were done by hand.

Painting also took quite a while, lots of small mistakes I had to sit and correct. I spent about a day each on each figure just painting and perfecting. Eventually I got it right. The figure was first painted with a base coat of white, then the different parts were all painted using Testors Model Master Acryl paints, which I've found to love. I then gave him (all of them actually) a wash of black to make it look darker and more comicy, and to finish it all off, I took an ultra fine sharpie marker to add in different lines here and there, to really make it look like my comic. I put crosshatching at the bottom of his pants as I would in the comic. The eyes and nose were actually colored in with the sharpie.

Ryu is the leader of the Soldiers of the Gods, the trio of Soldiers that dedicate their (after)life to the Gods for the sole purpose of defending them and carrying out whatever order they ask. In this case, it is finding and killing Loki for his crimes against the Gods. Ryu is a noble, courageous leader, he commands his brethren in a friendly, yet meaningful demeanor. A born leader, his past as a leader of a gang helps him get through the toughest of obstacles.

Just keep in mind that these are my very first customs ever, and I've never sculpted or painted figures before this (aside from my previous attempt with the Street Fighter IV figures, which I won't show). And every detail was done by hand. No dremel tool, nothing. Enjoy.