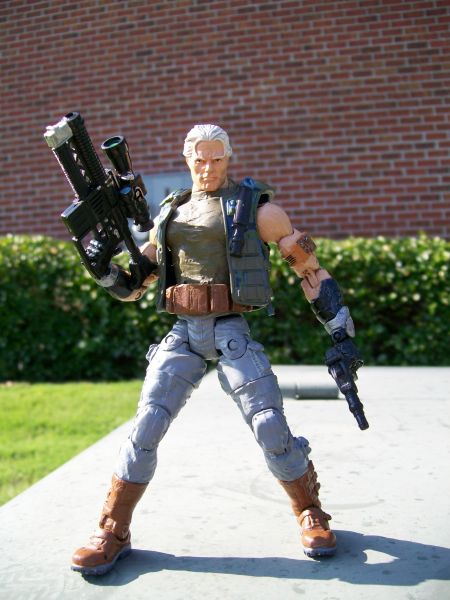 | | |
| --- | --- |
| Custom #: | 31753 |
| Name: | Gaylin Swoope |
| Custom Type: | Action Figure |
| Toy Series: | Star Wars |
| Creator: | Jarred706 |
| Date Added: | August 9, 2011 |
| Base Figure: | ML Punisher |
| Height: | 6.00 inches |
A long time ago in a Galaxy far away...

In a world where the Rebellion failed, and the Empire succeeded. Darth Vader has usurped Palpatine, taking a new apprentice, Darth Miran. The few remained heroes of the Rebellion have gone underground, the Jedi order is all but gone. One lonely hermit took it upon himself to train a young girl in the ways of the Force, but the Empire is fast approaching and the only hope for potentially the last Jedi is to escape the planet. Smugglers are a dime a dozen, but competent Smugglers are few and far between, many of the best have "retired."

Gaylin Swoope is one of those few, an old man long since "retire." Gaylin was always loyal to his employers, and had very few stipulations, primarily that he didn't deal in slavery, apart from that anything went. When an old hermit showed up offering him a job and a lot of credits to come out of "retirement." Gaylin agreed and the next thing he knew he was transporting the last of the Jedi and an Imperial fleet would soon be down his throat. One thing he knew, he needed a crew...and everyone knows that the best crews came from the seediest corners of cantinas. All he knew was that the money better be worth it.

Hooded Hermit: They say you were the best smuggler in the galaxy...well I have a job for you.
Gaylin Swoope: Still am the best, but I'm retired.
Hooded Hermit: A smuggler never retires, they just vanish off the map.
Gaylin Swoope: It takes a pretty penny to make them reappear.
Hooded Hermit: Money is no object.
Gaylin Swoope: What kind of cargo?
Hooded Hermit: Live cargo, of a particular importance.
Gaylin Swoope: I don't transport slaves.
Hooded Hermit: I assure you, this is no slave.

Gaylin was made of a Marvel Legends Punisher, a Magneto head, the vest from a deluxe Avatar figure, and the arms from a XMC Angel.