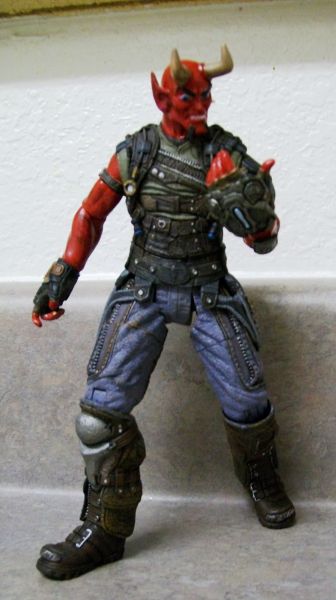 | | |
| --- | --- |
| Custom #: | 31963 |
| Name: | Aven'rark (Devaronian) |
| Custom Type: | Action Figure |
| Toy Series: | Star Wars |
| Creator: | Jarred706 |
| Date Added: | August 16, 2011 |
| Base Figure: | Bulletstorm |
| Height: | 6.50 inches |
A long time ago in a Galaxy far away...

In a world where the Rebellion failed, and the Empire succeeded. Darth Vader has usurped Palpatine, taking a new apprentice, Darth Miran. The few remaining heroes of the Rebellion have gone underground, the Jedi order is all but gone. Of course the Jedi can never be truly gone as long as the Force still flows through them, though they can hardly travel in the open. That's where it's good to have a Smuggler on hand.

When the Hooded man sought Gaylin Swoope out for a deliery, Gaylin knew that smuggling a Jedi would be no easy task, and anyone willing to help them would expect a major pay day. The Devaronian, Aven'Rark, was one of those expecting that pay day. Not only does he have a thirst for drink, but also a gambling problem that was a major source of his income. So he took a bet, and he took a promise...being the first to join the crew of the Fell Swoop on a mission that, if they survived money would be plentiful...if not well every gambler sometimes loses a bet.

Gaylin Swoope: You seem a gambling man Aven'rark...but then again most of your kin are...
Aven'rark: If the gamble is profitable, yes.
Gaylin Swoope: Profitable, yes, but also dangerous.
Aven'rark: Dangerous? It better be very profitable...

Sometimes a simple head swap can do wonders.

I started with a Bulletstorm figure (AND did not use it for a Cable...so it can be used for something else), popped the head off.
Used a DC Direct Blue Devil head, repainted red...a few other paint apps here and there and we have possibly one of the first Devaronians posted on Figurerealm.

On a side note I toyed with having the Devaronian talk like Villie (who has become one of my favorite characters in the Star Wars EU...if I ever get around to making my Quinlan Vos, he'll be right behind) from the Quinlan Vos Star Wars Omnibus...decided Gungan speak was a little too much for me. So...yeah...that's about it...