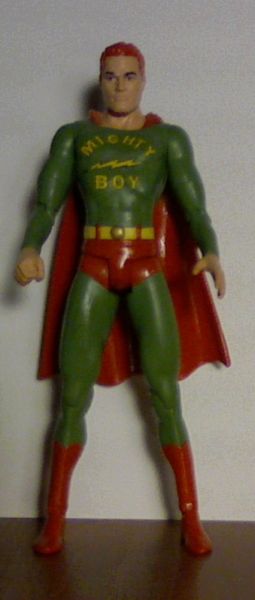 Okay, here goes. From Superboy Vol. I #1 (March/April 1949) we have Mighty Boy I, a youth named Reuben who is tricked by an unscrupulous carnival showman to appear as the world's strongest boy. All of Mighty Boy's feats are actually the result of circus trickery. When criminals kidnap Mighty Boy in order to further their villainous plans, Superboy steps in to end the fictitious career of the young man and apprehend all who sought to exploit him.

Again, this was a pretty simple custom to put together. I took the Crisis Series 3 Earth-Prime Superboy, removed his head, arms, hands, and legs, and used Tamiya Putty White to fill in the grooves of his chest and cape symbols, thus making his chest and cape smooth. Next, I gave the figure a full body repaint. Once all paint had dried on the body, I reattached all body parts except for the head. Next, I sanded the neck ball on the Superboy figure into a post and then used more Milliput to build up the neck to accommodate the new head (the existing neck had a groove cut into it for the original head). Once the Milliput had dried, I repainted around the area of the neck where the seam between the neck and head was with some flesh-colored paint. Next, I jammed some more Milliput into the neck socket of a Toybiz Marvel Legends Sentry, and then placed it atop the Superboy neck post to create a neck socket. While the Milliput inside dried, I then commenced a full repaint on the head. Once the Milliput and paint had finally dried, I glued the head onto the body. Finally, as a last step, I cut out the letters and lightning bolt for his chest symbol, glued them on, colored them yellow, and TA-DA...Mighty Boy I, one-time rival of Superboy from 1949!!!!

Please let me know what you guys think of him, and as always, comments are appreciated.