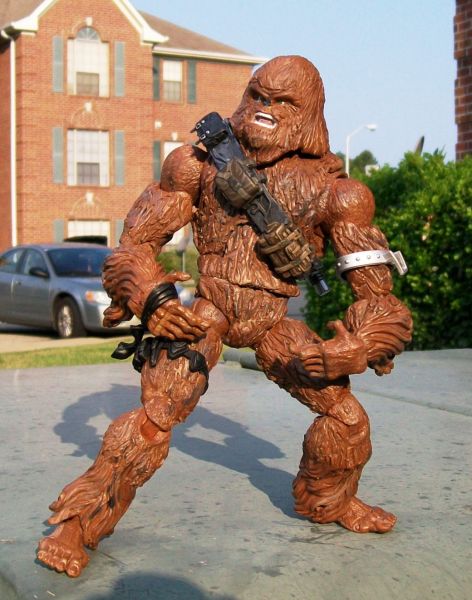 | | |
| --- | --- |
| Custom #: | 32439 |
| Name: | Chewbacca |
| Custom Type: | Action Figure |
| Toy Series: | Star Wars |
| Creator: | Jarred706 |
| Date Added: | September 2, 2011 |
| Base Figure: | ML Sasquatch |
| Height: | 7.50 inches |
A long time ago in a Galaxy far away...

In a world where the Rebellion failed, and the Empire succeeded. Darth Vader has usurped Palpatine, taking a new apprentice, Darth Miran. The few remaining heroes of the Rebellion have gone underground, the Jedi order is all but gone.

Han Solo, one of the Rebellion's heroes had been taken by the Bounty Hunter Boba Fett, turned over to Jabba the Hut on Tatooine. Leia Organa, Luke Skywalker, Chewbacca and several others attempted a rescue...only to fail. Han Solo once released from the carbonite suffered from Hibernation Sickness, but unfortunately he was unable to recover before being cast into the Sarlacc Pit, Boba Fett despite being an adversary of Solo took the initiative to shoot Han to prevent from suffering while inside the beast. Han's last request was that Chewbacca take the Millenium Falcon as his own, because he had little left to leave his oldest friend. Chewbacca took the ship hesitantly, and chose to aid the Rebellion the best way he could. The Falcon was to recognizable to frequent Imperial Space, so alongside Leia Organa and C-3PO the new crew of the Millenium Falcon began searching the Outer Rims for allies or potential Rebel bases, while remaining under the Empire's radar. In memory to his friend and companion, Chewbacca took to wearing a black scarf about his hand.

This was a time consuming figure...very time consuming...also a very heavy figure...

The vast majority of the figure was a ML Sasquatch with a lot of Apoxie placed onto the body and head. Simple, but it takes awhile for that stuff to dry and sculpt and sand and resculpt. The accesories werre a bit simple, the thigh band came from the belt of a BSG figure, the strap over the chest from a DC Build-a-Figure with pouches from a Halo figure. Several shades of brown, tan, grey and black were painted onto the figure for the coloration.

So that's that, I figured I'd break away from the crew of the Fell Swoop temporarily, but then again I've only got one more cast member from the that. Then it'll be time to get started on Wedge and Lando's Rogues Squadron.