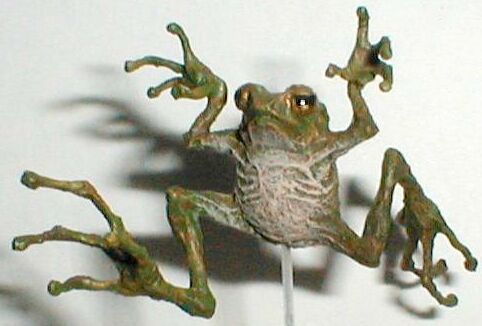 Enormous amphibians that can be encountered in Square-Enix's 1990/1991 Final Fantasy Legend II Nintendo Gameboy roleplaying video game [original Japanese title: SaGa 2: Hihou Densetsu (SaGa 2: Legend of The Secret Treasure.)] Said title was also released again, without changes, in 1998, by Sunsoft, and an enhanced remake, with fully polygonal graphics, was published for the Nintendo DS in 2009, but only in Japan (SaGa 2: Hihou Densetsu ~ Goddess of Destiny.) Note that the labeling of this software as Final Fantasy Legend II, for Western consumers, was a deliberately dishonest marketing tactic--the SaGa series of games is not part of the Final Fantasy franchise.

There are five different species of toad/frog monsters in Final Fantasy Legend II. In order of power, from weakest-to-strongest, they are (the original Japanese moniker for each amphibian, if different, is given in parenthesis): Toad, Poison Toad (Poison Frog), Huge Toad (Black & White Toad), Giant Toad (Ch'ing-Wa Sheng), and King Toad (Heqet). [Ch'ing-Wa Sheng is the Chinese frog spirit of healing and good fortune and Heqet is the Egyptian frog-headed goddess of birth and fertility.] All five creatures share the same generic game sprite; they're only differentiated by name and combat capability. If you decide to have a monster as a member of your party of adventurers, it's possible to transform that monstrous player character into one of said toad variants, or some other type of critter, by having them consume the meat that is sometimes left behind by slain enemies after the conclusion of a battle (what they turn into is governed by the strength and type of beast that the flesh came from and what physical form the Player's monster had prior to ingesting it.)

All amphibian enemies in Final Fantasy Legend II employ some combination of the following abilities in battle (the strongest type, King Toad, has access to eight of them, Toad, the weakest, only has a couple, and the other three varieties fall in between those two extremes):

- Kick (a vicious blow from the toad's long, muscular legs.)
- Gas (a foul, choking emission from the creature's anus that damages all foes.)
- Tongue (a painful lash from the monster's sticky appendage.)
- Tie Up (the toad wraps and tangles up an opponent with its tongue, temporarily immobilizing them.)
- Poison Skin (a toxic glandular excretion coats the creature; anyone who physically attacks the warty beast while this is active will find themselves instantly poisoned on contact.)
- Curse Song (a ribbiting melody that temporarily weakens the audience with a debilitating curse, lowering their strength and defense stats.)
- Mad Song (a mind-rending, croaking chorus that temporarily disorientates listeners, causing them to indiscriminately lash out against friend and foe alike, randomly use items from their inventory, or stand idly by doing nothing at all.)
- Warning (sixth sense that significantly decreases the likelihood of the monster being ambushed.)
- X Ice (the amphibian is vulnerable to cold temperatures and takes extra damage from any sort of icy assault; critical hits suffered as a result of a freezing elemental attack can potentially be instantly fatal.)
- O Poison (the toad is immune to all known toxins; it can never be poisoned.)

Should you transform your monster player character into one of these croaking fiends, it will gain all of the capabilities, and weaknesses, described above, appropriate to that particular toad species.

-----------------------------------------------------------------------

Materials:
Newsprint, tissue paper, white glue, wire twist ties, gloss nail polish, and acrylic paint (figure).
Transparent plastic and super glue (stand).

Dimensions:
7.6 cm/3.0 in. x 8.0 cm/3.2 in. (widest point x highest point)
(5.6 cm/2.2 in. tall excluding the stand.)

Time:
Three days; September 5, 7, and 9 (2011).
The first two days were spent sculpting, and the third day was mostly painting and making the stand.