Team for a Suicide Mission ( Mass Effect 2) (Original) Custom Action Figure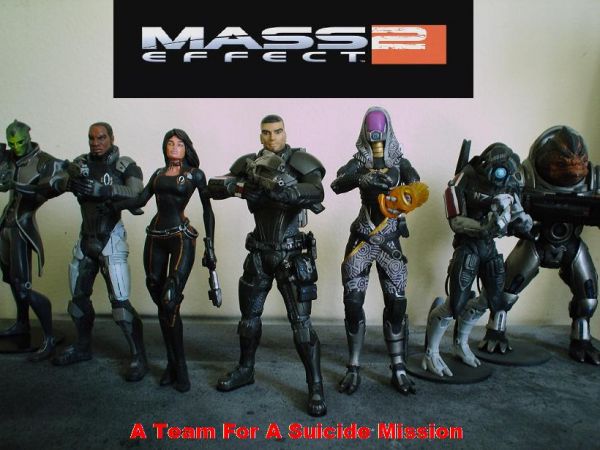 Commander shepard has been brought back from the dead after A two year absense to continue his fight against An Ancient race of superior machines hell bent on the complete destruction of all organic life. This time around shepard works for Cerberus an organization that believes in human dominance across the universe. And being supervised by A man known only as the Illusive man Shepard must put together An elite team of assassins, biotics, soldiers and other specialists if they hope to stand A chance of stopping A new allie to the Reapers known as the Collectors who have been abducting entire human colonies for unknown reasons. The fate of the galaxy rests on the shoulders of one, it will be A suicide mission that they dont expect you to survive but you will prove them wrong.

I wanted to make A collection of characters from the game mass effect that would beable to stand beside the ones made by DC direct. So I decided to make Miranda Lawson, Legion and Jacob Taylor. I also wanted to make tali more accurate to the game and shepard More B. A. with alot of tactical gear. so to start...

- COMMANDER SHEPARD- I first repainted his eyes to make them blue like in the game then to A DCD Batman utility belt and painted and added to it, to give him ammo pouches and other storage. I then made him A drop storage bag for his leg and then made it so folded up versions of the weapons could be stored like in the game.

- MIRANDA LAWSON- She started as A mcfarlane sydney savage but was heavely modified with Alot of sculpt to give her the perfect body as seen in the game. I then used A psylocke head and repainted it and then repainted her cat suit to the colors in the game and added accessories to her. I also msde he A custom SMG gun that she uses.

- TALI ZORAH VAS NORMANDY- when i fir got the tali figure I was very disapointed cause she is my fave character but they did little justice to her. Personally DC Direct stick to comic character. but I wanted to make her accurate to the game so I redid the legs adding joints into her ankles so she didnt have to have the very chickeny stance. I then added joints into her upper arms so she could type on her omni tool. I then completely repainted her to how she looks in the game. I painted the swirl design on her hood and other fabric and then andded other small details to her if you look at the original compared to mine you will see A huge difference. I then made it so she could also peg weapons on her back.

- LEGION- next to Tali legion and Miranda legion required alot of work. He started as A mix of halo reach figure all put together to make A geth figure. But then I wanted to make him more personal so I turned the geth into legion. I completely repainted him and added various shepard armor piece onto him like he does in the game. I then dremeled A huge hole through his chest to make the battle damage and then painted the insides with A glowing blue. Ifinally made him A sniper rifle that he uses out of various parts from my fodder box.

- JACOB TAYLOR- I'm not A huge fan of the character but still like him. But to make him I used A shepard body and completely repainted it and modified some things on the armor to make it different. I then used A GOW Cole head and repainted it and then made him A custom SMG gun that he uses.

Thank you for looking and hope you enjoy the team!
Pictures
User Comments
Original on eBay
Previous / Next Customs
Disclaimer
The figures contained in the Custom Showcase are not for sale by Figure Realm, and the creators of the customs are no way affiliated with Figure Realm. The Custom Showcase is purely for entertainment purposes and only provides a means for the creators to show off their work and trade ideas. Figure Realm does not make or sell customs.