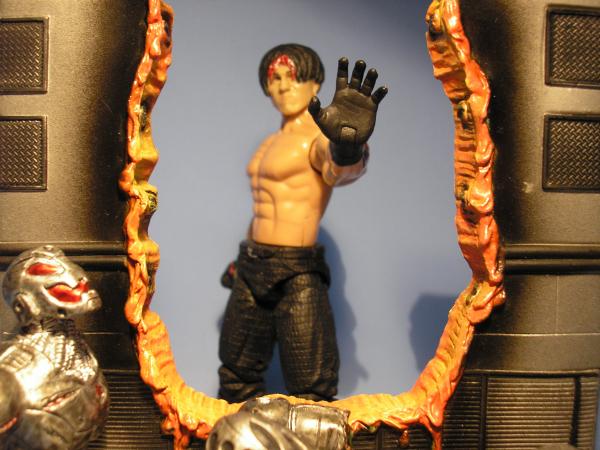 | | |
| --- | --- |
| Custom #: | 3320 |
| Name: | Surge |
| Custom Type: | Action Figure |
| Toy Series: | Original |
| Creator: | Mr-X |
| Date Added: | July 21, 2007 |
| Base Figure: | Mix |
| Height: | 8.00 inches |
An original figure I've been bouncing around for a while:

----------------------------------------------------------------------
The mutant codenamed Surge was like most other mutants in the respect his powers developed during puberty. A clever teen, the boy who would become known as Surge knew in the world he lived, people would shun and despise him if they knew what he was capable of. As such he hid his abilities from the public and from his violent and often drunk father.

Like most secrets, it didn't stay as hidden as he wanted it to be. Eventually his father discovered his mutant abilities, a power he (Surge) had christened: Forceful Deconstruction. As expected, his father began to resent and despise him, seeing his son as a freak and failure. His father became more and more prone to violence and took to beating his son, hoping to "beat the freak" out of him as he always said when these such events started. Soon it wasn't a weekly beating, it became almost daily. One night Surge finally broke, activated his powers and blew a fist sized hole through his abusive fathers chest, killing him instantly.

Seeing what he had done and knowing he had no home left, he fled, becoming an orphan at 17. Knowing his cleverness and resourcefulness would serve him well, he moved across the country as a wanderer, trying to find his place in the world.. Finally after several years of traveling he "settled" in New York. He eventually took root in a rundown part of town known as Blood Alley, a very old area of New York now turned into a Ghetto and home to a knot of crime. Here lived the people of New York who life hadn't been so nice too. Orphans, Mentally Handicapped, and the Financially Challenged lived in cheap but rundown apartments in this ratty part of Hell. Gangs, thugs, drug dealers and others of the sort also inhabited this less then pleasant area. Murders were common, drugs being sold to kids was everyday life and gang wars constantly moved in and out of the area.

Never the less, Surge took this place as his home and as a new beginning,. Everything he knew changed that day though. The day when a poor but ever optimistic couple with a child were caught in the middle of a gang war between rival gangs. Always nice and caring towards the now 20 Surge, they had been there has long as he had and all of them had always made it through the roughness of daily life. Knowing of his powers but never despising or resenting him, they became his only family.

Now just more victims of evil, they fell in the crossfire between the gangs. Surge, a witness to all that had occurred was enraged beyond the point of comprehension. Once again his life had been shattered by violence and now the same sense of violence took over him. Overcome by anger he jumped into the war torn street and began his retribution, disposing of near 20 gang members in minutes with his powers.

Rising from amid the blood soaked streets and bullet ridden buildings, he forsake his birth named and christened himself Surge. From that moment on he swore to do all in his power to make sure that no one would be forced to go through the same pain of loss he had suffered in his own life…

A quick rundown of Surge's powers:

1. Through the process of "Forceful Deconstruction", his body releases an energy that breaks down and destroys solid material.
2. It ONLY effects solid material, gases and liquids are not effected.
3. The power is only released through skin contact, he can't point somewhere and blow it apart.
4. As it is skin contact only, it can be released through anywhere on his skin, hands, back, feet, etc.
5. The power is not continually active(like Marvel's Rogue) but instead he releases the power through concentrating it on a spot or section of skin.
6. If released on an area of skin covered by clothes, the clothes will be destroyed. The only exception to this is his pair of custom gloves meant to allow his power to be released while not being destroyed(and protecting his hands from debris)
7. The more power he puts into an area of skin, the more destructive the results are( if an opponent were to place a hand on him he could release enough energy to take only a few layers of skin off or enough power to blow the entire hand off. Likewise he could put enough power into a brick wall to make a fist size hole or enough to blow a large section of wall away)
8. Because of how fast the destructive powers works, he can potentially "stop" gunfire. This only occurs if he knows the exact area the bullet is going to hit and has enough time to concentrate power into the area of his body to destroy the bullet on contact. If he is caught unaware or overwhelmed, he will suffer the bullets damage. The same applies with items like bats, clubs, etc.
9. Due to the fact his powers are only good through skin contact, he has trained in many forms of melee combat to utilize his powers to their maximum potential.
--------------------------------------------------------------------------

Recipe:
I took some $3 Wrestling figure from KB and took off the upper torso. Exchanged the legs with another, more articulate pair I had in my fodder bin. Then I painted the pants.

Pulled off the original hair and sculpted new hair, then painted it.

The right fist is from the original figure but the left hand was from my fodder bin.

I kept the original shape and size of the figures tattoos but gave them new coloring, eliminated gaps, etc, to make them more original.

Enjoy!!!