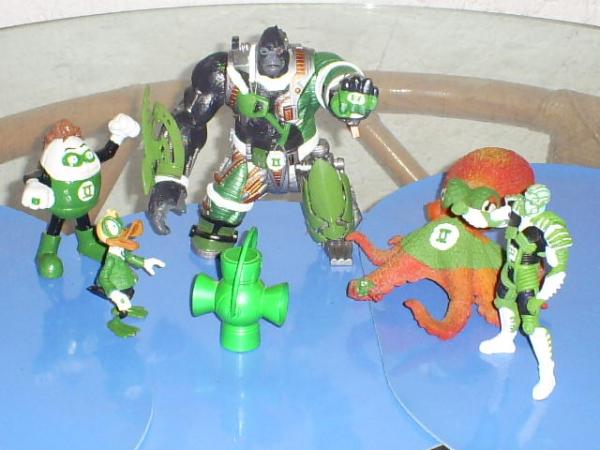 Jordan, Gardner, Stewart, they are the lanterns we know in our sector, but what about the others corps? Well, these are the really Green corps!! the new guys wearing the ring, that´s the reason maybe you didn´t know them.
-From the EGG sector (try huevocartoon com)comes Egg Jordan,in a dimension where all the people are, well, eggs, you need a really brave egg to wear the emerald ring, his worst fear? a friying pan, just don´t tell Sinestro !!!
-From Cygorium 1 comes Gorulak, when poachers killed his tribe, Gorulak was the last ape standing, it´s was a massacre, when Gorulak thought it was the end, from the sky fell a glowing ring, he used to rebuild his damaged body and now he is a Green Lantern Corp, vowing no other tribe it´s going to be killed again.
-From Bonustos 4 comes Howard, when all your friends are birds (and some of them chickens)you have to demostrate you have what it´s takes to be a Green Lantern, Howard´s hero? Guy Gardner !!!
-From Rematak comes Pulposo, he was wainting for eight rings, but later he discovered that when you are fearless you only need one!!!
-And who´s the last guy ?? well, he so new in the Corps that nobody knows yet, but if he´s in the Green Lantern Corps he´s supposed to be a brave being, we´ll have to wait for the first week with Killowog to know if he´s qualified.