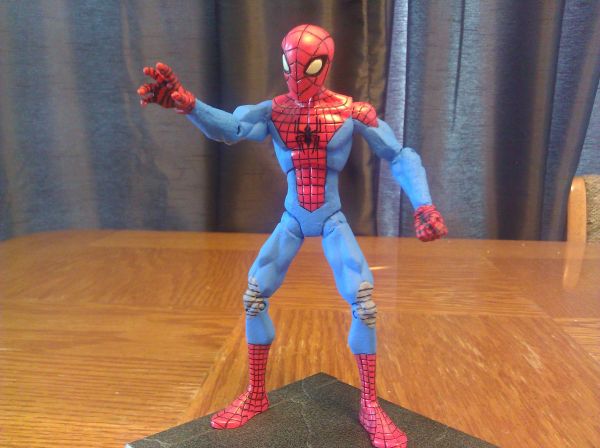 | | |
| --- | --- |
| Custom #: | 33521 |
| Name: | Ultimate Spider-Man (Miles Morales - Ultimate Fallout) |
| Custom Type: | Action Figure |
| Toy Series: | Spider-Man |
| Creator: | The 4th Man |
| Date Added: | October 12, 2011 |
| Base Figure: | Spectacular Spider-Man |
| Height: | 5.00 inches |
-Ultimate Spider-Man, in every capacity, is my Spider-Man - and has been now since' the 616 universe went to hades in a hand-basket. And while I certainly, from a comic standpoint, mourn the loss of Ultimate Peter Parker...I am really excited for Miles Morales, and Marvel / Bendis taking such a bold step. In that vein, I wanted to do a Ultimate Fallout #4: Spider-Man figure - as I have a real fondness for this suit!
-The base is a Spectacular Spider-Man (the one with the interchangeable, Peter Parker head). My puppy chewed off it's right hand - so I'd been looking for something to do w/ it for awhile already...and when I saw Ultimate Fallout #4, it was a fast no brainer.
-Since' the Spectacular Spider-Man's right hand was already missing, I went ahead and cut the left hand off, and replaced both hands with Nate Grey / X-Man hands, giving him a fist, and a more cautious / blocking hand. I had a broken X-Man figure as well, so it didn't bother me lopping off his hands for this custom. The X-man hands were perfect because they already had the bunching from his suit around the wrists, so I was able to transform that into the bunched up gloves that didn't fit Miles right, in the issue. I did a few coats of red on the hands, to make the gloves - and then used a felt, black pen to put the webbing on the gloves - so it was all done by hand.
-The rest were all heavy coats of blue, to cover up the webbing that was on the rest of the body. That's honestly what took the most amount of time - was ensuring that was as covered as it could be. And the blue was carefully chosen. I tried 4 different versions - to ensure I picked the right one. However - everytime I went back to the issue itself - whenever the costume was shown in light, it was a brighter blue. The fight took place at dark, so it looked dark in the issue - but whenever light hit it - it was a brighter-color blue (more-so than PP's version) - so I decided to go this direction. And when this blue paint is in a darker setting, it does have the same darker coloring as in the book. I'd include one of those, but the pics weren't quite turning out the way I'd hoped, with the lower grade camera I was using, in order to include 3 pictures in my post (my higher grade camera took fantastic pics with the darker background - but I wanted to include more than 2).
-The knee and elbow pads were the same thing - a few coats of paint, and then the black, felt pen (followed by touchups, of course).
-All in all, I'm pretty happy with how it came out. And I have some plans, in the near future, to do a Miles Morales' actual costume (from the current, Ultimate Comics: Spider-Man covers), as well.
-Will appreciate feedback - both endorsing and critical! Thanks!