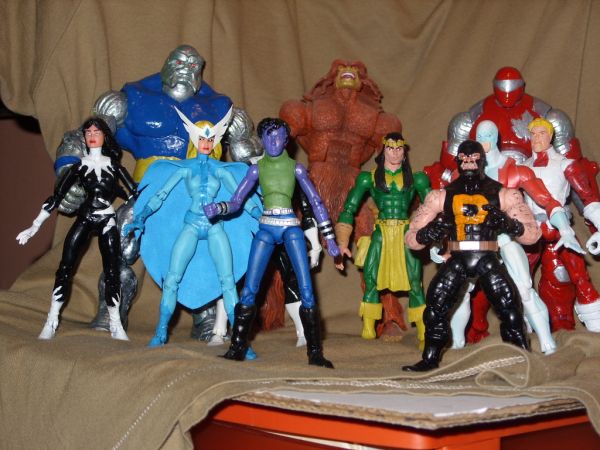 First off, great idea for a contest, really made me focus on one set of characters. This group was my first experience with Green Stuff. Used a lot of it but I think it worked out ok.
Not really too many new ideas for custom figures here, just my versions of what I could find for ideas on the web.
So here's the line up and their base figure:
Box I-Maestro, lots of Green Stuff for this one. Broke the waist and increased the torso length.
Box II-Beetle, mostly a simple repaint, tried something different for filling in some holes, used JB Weld compound. Works great for filling in holes and sets fast.
Aurora-Psylocke, the first of many, simple repaint.
Northstar-Quicksilver, a little sculpty for the hair and repaint.
Major Mapleleaf-Judge Dredd, really happy with this one. I've only found one other custom of him and that was with a DC Universe figure. Some Sculpty, foam strips, a rubber band, paper clip, and fodder (for the belt for the last 3.)
Puck-head/torso-AoA Wolverine, legs-MODOK, arms-House of M Wolverine and paint
Shaman-head is Ripclaw, body is Banshee. This one worked really great as far as the colors for the costume.
Purple Girl-X-23, some green stuff and repaint.
Snowbird-Psylocke, cape is foam sheet, headdress is toothpaste foil, repaint.

Unfortunately time did not allow my to finish the rest of the group (I originally thought I had until Nov 30, had to kick it into gear 2weeks ago):
Windshear-Ironman
Vindicator-Psylocke
Talisman-Psylocke
Puck II-X-23
Weapon Omega-Star
Marrina-Wasp
Wolverine

Let me know what you think.
Looking forward to seeing what everyone else has entered,
Good luck everyone.