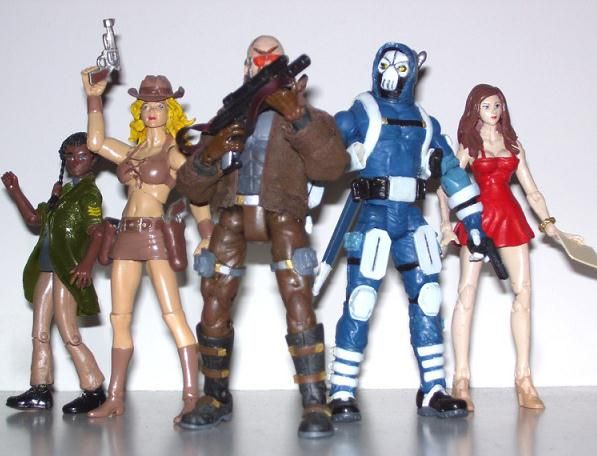 Greetings, True Believers! For my first custom listing in over a year, and my first ever entry into a Figure Realm contest, I present . . . Agency X!

A man with no past, Alex Hayden appeared on the doorstep of Sandi Brandenberg's apartment building with one goal in his mind: to become the greatest mercenary in the world! After training with Sandi's boyfriend - Tony Masters, the legendary Taskmaster - and the beautiful mutant gunslinger, Outlaw, Alex became Agent X! After picking up a sidekick in the form of the mysterious, unseen Mary Zero, and discovering his connection to the notorious merc with a mouth, Deadpool, Alex forms Agency X, the world's premier mercenary team!

And yes, that scene in the third pic really did happen in the comics.

With the exception of Taskmaster, this entire project was a spare-parts build, just a way to find interesting uses for the various odds'n'ends in my fodder bins.

Agent X - Aragorn, Boromir, Gambit coat
Taskmaster - Punisher, Aragorn hood, shield is the bottom of a prescription pill bottle
Sandi - Emma Frost, Baron Zemo skirt, head from old ToyBiz Marvel vs Capcom Morrigan, Hellboy cat
Outlaw - Upper She-Hulk, Lower Marvel Girl, Wasp head, Shadowcat hair, hand-sculpted hat and guns, braid is braided yellow thread for posability, hat is removable
Mary Zero - old ToyBiz X-Men vs Street Fighter Cammy, Doctor Octopus coat

Hope you like my little project! More on the way, I promise!

Excelsior!